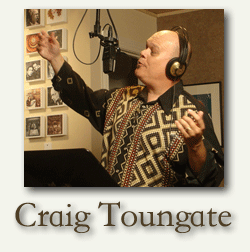 Jesmax Music, BMI, owned by composer Gary Powell, is pleased to have placed the Craig Toungate song "The Laughing Song" on Walt Disney Records' CD entitled "Disney's Merry Little Christmas" which is exclusively sold at retail Target stores.
Craig Toungate, a frequent vocalist for Walt Disney Records, is appropriately credited on this album as "C.T. the Elf" and a very happy elf he is. Craig's performance is a live recording which was captured at an "In the Studio with Gary Powell" performance earlier in the year. This is the first song for Craig Toungate to be released by Jesmax Music on a Walt Disney Records' project. Please click here to visit Craig Toungate's site.
Please note that I sell no Disney products on my site. This CD can be purchased exclusively at Target stores across the country.
The Laughing Song
Words and Music by Craig Toungate
Everybody wants to feel good
That's a right you have in your life
The mysteries of the world understood
To just the minimum of strife
When you feel like you're gettin' too uptight
You're too caught up in the aftermath
Tell you what you do to set your little mind right
All you got to do is laugh
That's right
Sometimes you just got to laugh
a little bit to lighten the load
You know what I'm saying?
(Ad lib laughing)
Life's one big experiment
We're just like fish inside the bowl
We sit and wonder where the time went
One day you're young next day you're old
Your rent's overdue and your car's on the blink
Your neck's stretched out like a big giraffe
Your head's gonna explode if you have to think
I think it's time for you to laugh
Yeah, that's right
I said laugh, laugh
(Ad lib laughing)
(Copyright Jesmax Music, BMI 2006)