by Gary Powell
My singing relationship began with Alicia in 1990 in the last two years of my teaching appointment in the Department of Music at the University of Texas at Austin.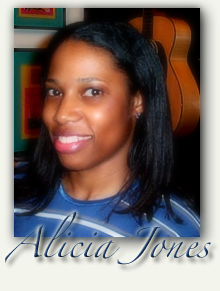 Alicia remembers auditioning for Ensemble 109, a recording studio vocal training and performing ensemble, and not making it the first year. Persevering, she was accepted the next semester after her second effort. It's hard to imagine my missing this young woman's talent the first time I heard her. Alicia graduated U.T. in 1993 with a Bachelor of Science in Electrical Engineering. She earned a Master's Degree in 2000 in Software Engineering from National Technological University.
Theatrically, Alicia has performed at Austin's famed Zachary Scott Theatre in Beehive in 1994, The Gospel at Colonus in 1996, and Dreamgirls in 1997. Alicia has sung with many musical performing acts including both Austin's R&B greats, Marcia Ball and Rayon Foster. Alicia has also been seen on Austin City Limits performing with Miss Lavelle White. Alicia then sang the background vocals for musical introduction of the movie, "My Best Friend's Wedding".
And what does Alicia Jones do with all that education when she is not in the studio? Well, she has now worked for Motorola/Freescale for eleven years with four years preceding that at AMD. She is currently a Senior Software Engineer who both designs and codes software used at Freescale to help other engineers verify that the PowerPC microprocessor chips we all use actually work.
So, what can the young singer learn from Alicia Jones in getting work in recording studios? Follow Alicia's lead on this: Be prepared before a session, read music well, arrive early for sessions, be able to take musical directions, be adept in many vocal styles, sing dead solid in tune, work in concert with other singers, try to make the vocal producer's life easier and finally, be real. This is the short list of why Alicia Jones is a "first-call" session singer in my studio. Add in raising two young boys along with a wonderful husband and father, Jerry Jones, and you have here a very full and complete life. You go, girl! I'm proud to have you as a major part of my professional and studio life!
These Alicia Jones performances below can be found on various Walt Disney Records recordings and the other recordings listed below. Please note that I do not sell these recordings. For more information please go directly to Walt Disney Records or follow the links below for specific titles.
Lion King Performances
I Just Can't Wait to Be King, Can You Feel the Love Tonight?, Warthog Rhapsody
Cheetah Girls 2 Karaoke
The Party's Just Begun, Strut, Do Your Own Thing, Step Up, It's Over, Cherish the Moment
Disnosaur
Make Some Noise
Chicken Little Karaoke
Shake Your Tail Feather, Ain't No Mountain High Enough, I Will Survive
Various Walt Disney Records Choral or Group Work
Pin the Tail on the Donkey, Pooh's Colorful Present, Number Hunt, The Alphabet Day, I Won't Say (I'm in Love), Kiss the Girl, The Twist
, Rhinos, Rhinos Can't Be Beat, "Little" Medley, London Bridge, Happy Birthday, Bunny Hop, Pulling Santa's Sleigh
"Not Afraid of the Dark" by Joe Scruggs
I Can Dance, Rainbow Colored Jump Rope, Anteater, Fireflies
Dance, Rhyming Country
Gary Powell, Arranger/Producer