Gary's book of the same title is a collection of stories and original songs from teaching music in the Texas Women's Prison to being a Cruise Director on the high seas. Coming of age has seldom been so diverse, honest or musical….. MAYBE I'M IT – MAYBE I'M NOT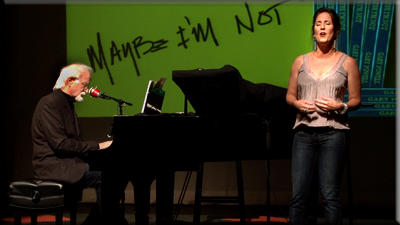 Menu of Shows
Gary Powell's musings while a young man , Maybe I'm It, Maybe I'm Not was written in 1982 while struggling with how to manage a young career burdened with heavy expectations, unseen talent and self-doubt. No doubt this book would have been a blog had they existed in 1982.
"I never liked having to run the gauntlet of record companies, so I was determined to write a book and publish it without asking permission from any presumed authority." ~ Gary Powell
"Maybe I'm It, Maybe I'm Not" is that effort and now presented in this live
performance of song and story.
Featuring
Songs from "Maybe I'm It, Maybe I'm Not"
Pablo Picasso
It's Nice to Know Faces
When Will I Ring the Bells
God's Gift to Me
Vasectomy
Multi-colored Socks
Was It Wrong?
The Grocery Store Song
I'm Still Here
First Christian Church and Lumber Yard
I Can't Sleep Without You
Bells of Notre Dame
Forever in the Song
Follow Me
Quotes Taken from "Maybe I'm It – Maybe I'm Not" Book, Script and Lyrics
Some things we learn to late.
Some things we learn to early.
Some things we never learn
And others we never have to.

---

Prelude from the Book "Maybe I'm It, Maybe I'm Not"
"The difference between romance and love is that romance is not a team sport."
~ Gary Powell
"There is a danger in "turning out." Comfort's most loyal disciple is complacency,
so a "turned-out" citizenry serves no higher utility
than that of a curb to a drain."
~ Gary Powell
"Pundits. What if we quit listening to you? God forbid, individuals might start showing up everywhere; everywhere but TV, that is. We just might germinate a society where the consumer is downgraded to simple personhood. Then incorporate.
Repeat as needed."
~ Gary Powell
It's nice to know faces caring for you
It's nice to remember they'll see you through
And it's nice to someone you can return
All that's been given and all that's be learned.

---

Lyric from the Song "It's Nice to Know Faces"
"Quasimodo rang those bells with such purpose. By comparison, our lives can feel overly-burdened with insignificance. What if they do it to us on purpose?
There must be great profit in our unimaginative selves."
~ Gary Powell
When will I ring the bells?
When will it be? Will I compare?
When you ring the bells, I'll be there."

---

Lyric from the Song "When I Ring the Bells"
"I think when media personalities die, faces still intact, they turn into little pessimistic muses whispering their inadequacies in our ears."
~ Gary Powell