by Gary Powell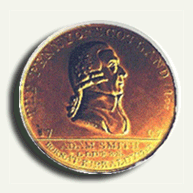 Scottish economist
Adam Smith
authored
The Wealth of Nations
published in 1776 in London! That year sound familiar? His book is the blueprint for the free market system which we are struggling to maintain today. Adam Smith's bust can be found on the historic Scottish penny minted in 1797.
Many contemporary economists believe there is a modern-day "corporate betrayal" of Adam Smith's economics philosophy. I was struck with the idea that the market economy works only when producers of products have a level playing field free from special interests from any large concentrations of wealth, power and influence and that the fruits of one's labor should go to the producer. Thusly, I penned the song which commemorates Adam Smith's penny and the idea that a good portion of that earned penny should belong to the person who produced the work.
In 1751, Smith was appointed Professor of Logic at Glasgow University, transferring in 1752 to the Chair of Moral Philosophy. His lectures covered the field of ethics, rhetoric, jurisprudence and political economy, or "police and revenue". That said, the philosophy related in the lyrics of the song, "Which Side of the Penny is Yours", are Adam Smith's. The "earthy" fashioned lyric is mine and would probably not have been approved knowing Adam Smith's puritanical leanings. This is clearly my interpretation and no disrepect is meant for Adam Smith's work which has so influenced and helped liberate the individual human being.
To learn more, please visit The Adam Smith Institute
Continue reading "
Adam Smith Authors The Wealth of Nations
"Which Side of the Penny is Yours?" from Aristotle's Prayer"