by Gary Powell, Composer/Pianist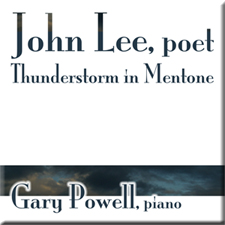 I'm proud to announce the worldwide digital release of "Thunderstorm in Mentone," a spoken-word album featuring author and speaker, John Lee.
Composers are often called upon to interpret life in solitude. This project, however, was by its nature a collaborative effort. I found that musically interpreting the intimacy of John Lee's words and voice was a wonderful and enriching creative experience. My intent was not to simply provide a musical bed for John's rich baritone. Instead, I chose to score the music both tightly and programmatically to his poetry's honest imagery. My wish is that you will experience this integration of poetry and music as deeply as I have and find the solo piano transparently merged with John Lee's beautiful performance.