by Gary Powell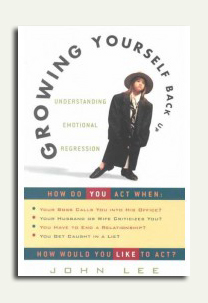 John Lee is the author of the bestselling "Flying Boy" series, as well as "Facing the Fire: Experiencing and Expressing Anger Appropriately" and "Writing from the Body". He lives in Woodstock, Georgia, with his wife, Susan, and conducts workshops around the country. BUT, he used to live in Austin just around the corner from me. We met in the studio today to continue an audio project we had actually begun on November 25, 1995. The date is important only in our recognition of where we have both "arrived" in one small decade.
This afternoon in my Austin studio, we recorded John reciting his book of poetry Sleeping in Public. John's wonderful words are disarmingly simple even though he is dealing with complex personal emotions and the struggle we all share in becoming healthy, loving, whole human beings. My contribution to our effort together is to create a musical compliment for John's prose and love of writing.
This is an effort born of mutual interest and respect without the trappings of commercialism. We expect it out sometime in the next decade. :grin: I'm guessing it will be sooner than later. Stay tuned. In the meantime, visit John Lee's website and learn more about his sixteen books and life story. You will find him this weekend presenting at The Crossings, a learning center and wellness spa in Austin, Texas.