by Gary Powell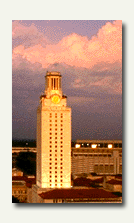 Glenn Richter teaches this class of upper division students and has invited me to guest lecture October 5th. Glenn is a long-term ally of mine who actively searches out new experiences for himself and his students.
A Note to the Class of Mus 376C
Learning by appointment in the classic model of "here's the information you need, learn it now" does not always work. Maybe this system is an effective way to study 18th century literature, however, any subject that is either dynamic in technology or highly personal and subjective is going to be bogged down under this archaic "non-method".
"Just because something has always been doesn't mean it should always be!"
Music is both technically dynamic and highly subjective. One could argue that anytime a lecturer leaves the student out of the process excepting examinations, it might be a good idea for her to look around the classroom for drooping eyelids, nodding-off heads, surreptitious text messaging and game boys. (If only my iPod earbuds were a little smaller and not so white.)
Here's where you, the interactive, self-motivated and under-appreciated student, get to drive the subject toward your interests. I could talk about myself for several years (as well as any narcissist), but much of that data would not be beneficial to you. The remedy for this problem is for me to know where YOU are, not where I have been.
So, let's use this cool blogging technology to do more than just rant. I suggest that you, the student, individually post a comment here that will help prepare me for visiting your class. I also suggest that you make comments rather than ask questions.

Why Comments Instead of Questions?
Sometimes when we ask questions, we as individuals are not aware of our own psychology behind the question. A comment, however, puts your brain on notice that you might have to defend your comment. Therefore, you might reveal to yourself more about yourself AND learn more about the responsibility you have for your own education. If you need help with not asking a question, try starting sentences like this:
I'm concerned about …
I'm observing that…
My experience has been that…
When I hear "whatever", I feel that…
My hope is that…
My fear is that…
The music business is…
Dude, wait 'til you hear this…
I will assimilate your comments and try to facilitate a meaningful class for you.

Need more stimulation?
Check out my Lecture Topics and see if any of this has something do you with YOU. I look forward to both meeting and learning from you guys and hope we all enjoy this exercise. Thank you, Glenn Richter, for your brave soul and warm heart.