by Gary Powell, Composer/Pianist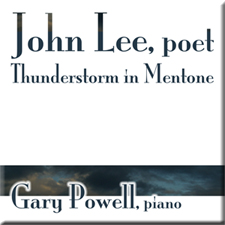 I'm proud to announce the worldwide digital release of "Thunderstorm in Mentone," a spoken-word album featuring author and speaker, John Lee.
Composers are often called upon to interpret life in solitude. This project, however, was by its nature a collaborative effort. I found that musically interpreting the intimacy of John Lee's words and voice was a wonderful and enriching creative experience. My intent was not to simply provide a musical bed for John's rich baritone. Instead, I chose to score the music both tightly and programmatically to his poetry's honest imagery. My wish is that you will experience this integration of poetry and music as deeply as I have and find the solo piano transparently merged with John Lee's beautiful performance.
When Gary Powell and I first talked about him setting music to my poems I thought, 'What a compliment,' and 'Sure, let's try it.' Then when I heard his first composition I could hardly compose myself. The sound coming out of this talented, gentle man's soul stirred my own. Now after listening to his music embrace my poems, I want to write more poetry and be a better poet and say, 'Let's do more.' And we will. – John Lee, Poet and Writer
"Thunderstorm in Mentone" – Now Available Online for Worldwide Download from These Stores
Thunderstorm in Mentone
Written and Read by John Lee
Composed and Piano Performance by Gary Powell
Produced by Gary Powell
1. The Long Walk Home
2. Ancient Paths
3. The Man Who Had Never Seen the Sea
4. It is a Wonder
5. The Upward Journey
6. Thunderstorm in Mentone
7. Holding On
8. Lines and Curves
9. Letters
10. A Fall Wedding
11. Nothing
12. And Thomas Answered
13. Becoming Astonished
14. All Things
15. Bringing Forth
BLOGGING TIP: TO SHARE THIS WITH YOUR FRIENDS: Click the title of this post to display its permalink URL in your browser's address bar. A permalink is nothing but a permanent URL address for any post. Every post (or blog) has its own permalink. You can now copy and paste this URL address from your browser's address bar into an email to share with others.