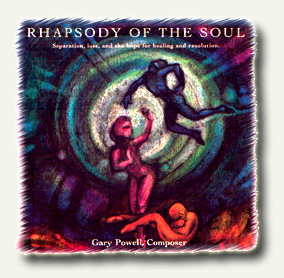 by Gary Powell
Throughout the ballet Rhapsody of the Soul, we have explored the separation and loss associated with living life, the moving toward and the stepping away from. The hope for healing and the gift of resolution, which might transcend our losses, has been there all along. Every musical theme within the Kyrie was quoted in the previous sections of the ballet. The healing made the journey with us, although perhaps not consciously, throughout our lives and within the ballet itself.
Humanity has struggled with the issues of loss since first developing consciousness and awareness. We have been seduced by all manner of strategies to pull us into the fold of which there are many, especially at our most vulnerable moments of loss when simple solutions become more appealing. But, in the end, the transcendence of loss is and has always been enveloped within each moment of living. Tears of joy usually carry within them some tears of sadness or loss as well. Conversely, our grief at the loss of a loved one also carries the joy of having had this person in our lives.
The Illumination Process… transforms emotional wounds into sources of power and knowledge…. The wounds cease scripting reality and turn out to be gifts of love and strength. What was once a crippling story can be transformed into newfound peace and compassion. – Dr. Stephen J. Banko, DC, FASA
Also, at a time of loss it is certainly mercy for which we plead – mercy from our pain and suffering. In that context, I chose the Kyrie from the mass in that the lyric has resonance within Western and Eastern cultures alike. It also has resonance for me personally although not due to its specific religious connotation. Any interpretation of the Kyrie is a personal one and certainly distinctive for each of us. I don't see healing coming at the hands of a father figure or outside of ourselves, but I do find it within the idea of the Christ, the illumination that heals, regardless of the ideologies which borrow from this iconic teaching.
In composing the ballet, I enlisted the inspiration from my personal experience and the associated psychological work around it. Although I have borrowed from many traditions, musically and philosophically, one reference stands out from Stephen Banko's writings on illumination, found within his teachings on Shaman Healing, which is broad enough to hold both my life experience and modern psychology together in one thought. Now that thought has become musical, danceable, and livable within this one long musical phrase: Rhapsody of the Soul.
There have been no religious references within this work until now. In Kyrie, however, there is a shift in the origin of language within the text of Rhapsody in that Kyrie is derived from the Greek word for Oh Lord. All other lyrics before this final piece of the work were translated from English to Latin. This shift from Latin to Greek in the Kyrie was academic for me and of no consequence.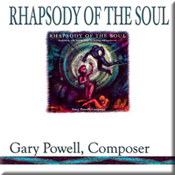 Now Available Online for Worldwide Download from These Stores
Rhapsody of the Soul
(Separation, Loss and the Hope for Healing and Resolution)
An original work for the Austin Contemporary Ballet
Choreographed by Greg Easley, Artistic Director
Composed and Produced by Gary Powell
Latin Translations by Barry Brandenburg
1. Suavis Unitas Ne Discedas (Sweet oneness depart Not.)
2. Veniri Necesse Mihi Pati (It must come. I must suffer.)
3. Prudens Viae Nihil Moveor (I know my path. I do not move.)
4. In Umbris Progreditur Et Novit Amicos (It moves in shadows and knows my friends.)
5. Timens Decedende. Timens Manendi (Scared to leave. Scared to stay.)
6. In Morte Perditus (Lost in death.)
7. Kyrie Eleison, Christe Eleison (Lord have mercy. Christ have mercy.)
Amy Atchley – Soprano
Chris Martin – Alto
John White, Billy Henry,Gary Powell, Chris Martin – Chant Chorus
Illustrations: Antonio Muñoz
TO SHARE THIS POST WITH FRIENDS:
Click the title of this post to display its permalink URL in your browser's address bar. A permalink is nothing but a permanent URL address for any post. Every post (or blog) has its own permalink. You can now copy and paste this URL address from your browser's address bar into an email to share with others.
All Content of Gary Powell's Site is Licensed Under a
Creative Commons Attribution-NonCommercial-NoDerivs 2.5 License


.