by Gary Powell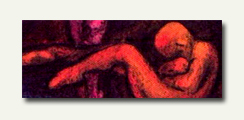 The lyric "Suavis Unitas Ne Discedas" translates from Latin to English as "Sweet oneness, depart not." This lyric sets the tone for the ballet, "Rhapsody of the Soul." The stage is set. This opening scene is bathed in the fog of serenity, sweetness and peacefulness. The music begins by supporting this place of idyllic contentment and then slowly invites soul to become substance. Voices from the other side are wrapped within a distant web of wonderment. Although beginning as an invitation, the distant voices become more present – more populated, moving quickly past seduction toward the adjuratory commitment to life for our first gasp for air.

Though the rupture of primary unity is a necessary loss, it remains "an incurable wound which afflicts the destiny of the whole human race." – Judith Viorst, "Necessary Losses"
The journey of "Rhapsody of the Soul" is musically punctuated by what was and what will be – our birth, our lives, and our death. These life parts, from our glorious oneness to our eventual separation, are each represented as musical themes throughout the ballet and are all first quoted in this opening piece, "Suavis Unitas Ne Discedas."
Life is not static. We are all under constant change. Sometimes change is incipiently slow and dangerous in that we don't feel it happening. Sometimes change is like stepping off a cliff. Birth is the latter. Moving from the womb, where safety, contentment, nourishment and peace transition to the shockingly violent birth canal must rank highly as one of the most ungracious transitions a human will ever experience. This is the moment when the vase of everlasting unity is broken and the individual is slapped into human experience. This is a grand, a traumatizing, and an unsettling entrance to the life that we all share!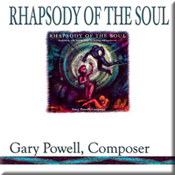 Now Available Online for Worldwide Download from These Stores
Rhapsody of the Soul
(Separation, Loss and the Hope for Healing and Resolution)
An original work for the Austin Contemporary Ballet
Choreographed by Greg Easley, Artistic Director
Composed and Produced by Gary Powell
Latin Translations by Barry Brandenburg
1. Suavis Unitas Ne Discedas (Sweet oneness depart Not.)
2. Veniri Necesse Mihi Pati (It must come. I must suffer.)
3. Prudens Viae Nihil Moveor (I know my path. I do not move.)
4. In Umbris Progreditur Et Novit Amicos (It moves in shadows and knows my friends.)
5. Timens Decedende. Timens Manendi (Scared to leave. Scared to stay.)
6. In Morte Perditus (Lost in death.)
7. Kyrie Eleison, Christe Eleison (Lord have mercy. Christ have mercy.)
Chris Martin – Alto
Amy Atchley – Soprano
Gary Powell – Tenor
Billy Henry, Joe York, Scotty Roberts, Gary Powell, Male Chorus
Will Weaver, Katie Pyle, Devin MacDonald – Children's Chorus
Katy Pyle – Newborn Child
Illustrations: Antonio Muñoz
BLOGGING TIP: TO SHARE THIS WITH YOUR FRIENDS: Click the title of this post to display its permalink URL in your browser's address bar. A permalink is nothing but a permanent URL address for any post. Every post (or blog) has its own permalink. You can now copy and paste this URL address from your browser's address bar into an email to share with others.