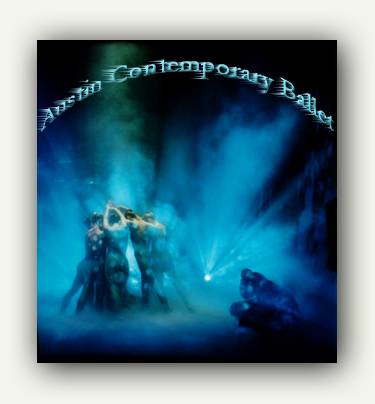 by Gary Powell
In 1995, I gave an interview on Austin's NPR radio station, KLRU. During the interview, the moderator, John Rogers, played a recording of a composition I had written for the vocal group I had directed ten years earlier at the University of Texas, Ensemble 109. I recorded "Kryie Eleison, Christe Eleison" in 1986 with five studio singers, two of whom had been former students of mine at UT.
When I came home from the live interview, I had received messages on my home phone from two of Austin's artistic directors, Lambros Lambrou of Ballet Austin and Greg Easley of Austin Contemporary Ballet, who were both listening to the interview and both heard "Kyrie Eleison" at the same time. Both, also, made calls to me within minutes of each other without each other's knowledge.
Although I would have welcomed the chance to have worked with Lambros Lambrou, Greg Easley had a more immediate need in mind. He explained how AIDS had taken it's toll on the dance community at large and how he felt that my "Kyrie" had spoken to his own sense of loss. Then Greg asked, "Would you be interested in expanding your "Kryrie" to look more deeply into loss itself, not directly as an AIDS piece, but because all of us live with loss everyday?" Thus, the bigger idea for the ballet was born, entitled "Rhapsody of the Soul," and performed at Austin's Paramount Theatre on February 9th, 1996.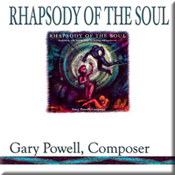 "Rhapsody of the Soul" – Now Available Online for Worldwide Download from These Stores
Rhapsody of the Soul
(Separation, Loss and the Hope for Healing and Resolution)
An original work for the Austin Contemporary Ballet
Choreographed by Greg Easley, Artistic Director
Composed and Produced by Gary Powell
Latin Translations by Barry Brandenburg
1. Suavis Unitas Ne Discedas (Sweet oneness depart Not.)
2. Veniri Necesse Mihi Pati (It must come. I must suffer.)
3. Prudens Viae Nihil Moveor (I know my path. I do not move.)
4. In Umbris Progreditur Et Novit Amicos (It moves in shadows and knows my friends.)
5. Timens Decedende. Timens Manendi (Scared to leave. Scared to stay.)
6. In Morte Perditus (Lost in death.)
7. Kyrie Eleison, Christe Eleison (Lord have mercy. Christ have mercy.)
BLOGGING TIP: TO SHARE THIS WITH YOUR FRIENDS: Click the title of this post to display its permalink URL in your browser's address bar. A permalink is nothing but a permanent URL address for any post. Every post (or blog) has its own permalink. You can now copy and paste this URL address from your browser's address bar into an email to share with others.
Use this Bookmark Button to Share "Rhapsody of the Soul" with Your Social Networks!