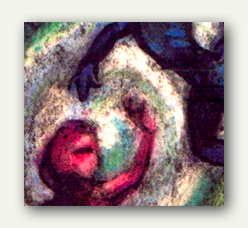 by Gary Powell
All is fine. Then, it's not. A little brother or sister is born and that mucks up the good thing you had going as the only child. You were on your way to becoming the prom queen in high school and then the exotic beauty from Sweden moves to town. You had the perfect job with open communications, fairness, and positive leadership, and then, your reasonable and fair-minded boss is replaced by a pinhead.
These imperfections of timing and circumstance, like being caught in the eye of hurricane that wasn't forecasted, present us with a choice. The Clash asked the question best, "Should I Stay or Should I Go?" As we luxuriate in our success and safety, the uncertainties of living – which is mostly everything – delivers us a pizza with anchovies. Send it back and it will be another hour and a half before you eat. Pick off the anchovies and you can still taste them. Eat the anchovies and it begs the question, "Who actually eats these things?"
In her book, Necessary Losses, author Judith Viorst teaches us that we have seen this all before and have all experienced these critical and epiphanic moments at every stage of our development. As adults, however, when health, financial security and our commitments become threatened by the unsanitary flush of disorganization, real fear can invade our decision queue in a serious and possibly crippling way. We can become scared to leave and scared to stay in the same moment. Making distasteful decisions will always be a part of being an adult. Whether or not our choices are healthy for ourselves, our families, our friends and our associates is yet another issue.
On rapprochement of an 18 month-old child… we are feeling: Help! On the other hand, we don't want help. Or rather, we both want it and don't want it. And, besieged by contradictions, we hold on tight and push away, we follow and flee. We insist on our allpowerfulness and rage – RAGE! – at our helplessness, and our separation anxiety intensifies. Craving that old sweet oneness, yet dreading engulfment, wishing to be our mother's and yet be our own, we stormily swing from mood to mood, advancing and retreating – the quintessential model of two mindedness. – Judith Viorst, Necessary Losses
Enter Rhapsody of the Soul's Timens Decedende. Timens Manendi. The piece begins musically in the safety of the feminine – the good mother. It is the calm before the storm. The low bass voice intrudes in this reflective place with a warning, "Timens decedende. Timens manendi." Scared to leave. Scared to stay. The feminine is now joined by the masculine with one last shared pleading, "Suavis," where both yearn for the sweet oneness that they know will soon be gone. Now, the musical anticipates the emotional where concern shifts to fear. It is within the very nature of this fear which now transforms us musically and figuratively to an all male maelstrom, powering us away from thoughtful contemplation and exploding toward action and resolution. The masculine allure to risk is a major evolutionary component to the success of the human race. But, risk can also go blind and action alone can fail to satisfy. The holy grail of resolution, when finally reached, leaves us alone, separated from each other, left only with our personal trauma to endure. When the masculine is excavating safety only from decisiveness, we can all be seductively drawn into this frenetic yet highly-organized battle cry. This piece ends with that battle cry: masculine's ultimate weapon powered by our deepest genetic and psychological longing for conclusion – no matter the cost.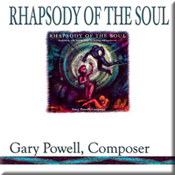 Now Available Online for Worldwide Download from These Stores
Rhapsody of the Soul
(Separation, Loss and the Hope for Healing and Resolution)
An original work for the Austin Contemporary Ballet
Choreographed by Greg Easley, Artistic Director
Composed and Produced by Gary Powell
Latin Translations by Barry Brandenburg
1. Suavis Unitas Ne Discedas (Sweet oneness depart Not.)
2. Veniri Necesse Mihi Pati (It must come. I must suffer.)
3. Prudens Viae Nihil Moveor (I know my path. I do not move.)
4. In Umbris Progreditur Et Novit Amicos (It moves in shadows and knows my friends.)
5. Timens Decedende. Timens Manendi (Scared to leave. Scared to stay.)
6. In Morte Perditus (Lost in death.)
7. Kyrie Eleison, Christe Eleison (Lord have mercy. Christ have mercy.)
Amy Atchley – Soprano
Chris Martin – Alto
James Fenner – Percussion
John White, Billy Henry,Gary Powell,
Joe York, Scotty Roberts – Male Chorus
Chris Martin – Alto
Illustrations: Antonio Muñoz
All Content of Gary Powell's Site is Licensed Under a
Creative Commons Attribution-NonCommercial-NoDerivs 2.5 License


.