by Gary Powell
My semesterly sojourn to Glenn Richter's music business class at the University of Texas is like a performance. Professor Richter is School of Music's Professor of Instrumental Conducting and the Director of the Center for American Music.
I think all my best teachers and professors have had a bit of performer in them regardless of the subject. This class was the kind that allowed some improvisation. Below is a list of what I THINK we talked about. If I left anything out, please add it in the comments.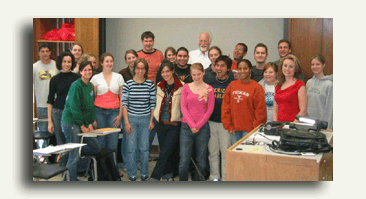 If you are under the illusion that these students are not on top of all the issues discussed below, then visit the site of violinist Rebecca Browne, who is the class member pictured second from the right in red. Also, you can listen to the wonderful voice of singer Azniv Korkejian, (pictured center in the white jacket/maroon collar) who sang for me after class.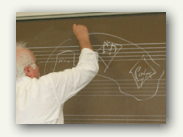 I opened by singing "I'm Gonna Get My Needs Met", my interpretation of Joseph Stalin. Then the following topics ensued.
The size of the musical palette needed in order to accommodate the size of the idea expressed.
Learning our own personal philosophical leanings as defined by how we view ourselves in relation to others and our own identity and responsibility.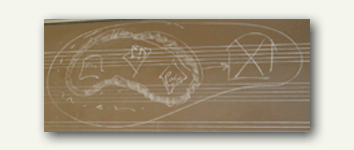 The source of the creative urge or spark…..trusting the mind to assimilate all the "loaded-in" disparate parts into the whole. (See drawing at right to help make sense of this and yes, I know I can't draw!)
How to keep the gig? Don't miss deadlines! Don't go over budget! Don't whine!
When it is time to take care of yourself, take care of your client at the same time whenever possible.
How do you get the gig? Get lucky first, but back it up with training, discipline and a prodigious work ethic just in case you have to actually work for a living. Be brave. Be bold. Go to parties.
The fine line between arrogance and confidence.
Don't let adults perpetrate the big lie about "arriving" or "the cream rising to the top". Here is what adults don't tell you. At 55 years of age I have the exact same challenges you have. Get comfortable with the constant reinvention of yourself.
This class was really fun for me. I met some wonderful and talented young people and we cut a wide swath across the professional music field. Teaching another person how to be successful is a slippery prospect. Even after 30 years as a composer, musical arranger and musician, I have just a sliver of knowledge about how it all works. NO ONE knows how it all works. However, when we come together we can share, learn and inspire each other from our own experiences, the good and the bad of it, in spite of our own prejudices and our ever-expanding philosophical and ever-changing emotional selves.
Best regards to all of you and especially Glenn Richter for sharing his class with me.