by Gary Powell





Session photos from the Parents' Choice Award Winning Record, "A Bug's Life Sing Along".
Robin Huston is the Vice President of Programs at the Oklahoma Arts Institute
I discovered Robin Huston as a freshman at the University of Texas at Austin when she auditioned for the vocal group under my direction there. There are very specific skills needed for recording studio session singers. That vocal group, "Ensemble 109", was designed to teach singers how to survive and even prosper in that environment. Since our first meeting in 1986, Robin has earned well over 100 credits as a solo performer, half of which have been for Walt Disney Records here in my studio.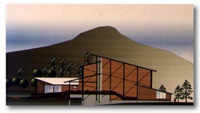 Robin invited me to teach a choral seminar for high-school singers at the Quartz Mountain Arts and Conference Center of the Oklahoma Arts Institute on June 18-19, 2005. Hopefully, these young singers will get to hear Robin perform. She is a "first-call" session singer and long-time friend and colleague. She has all the talent and skills that these young choral singers would want to emulate if deciding to start a recording career. Thank you, Robin!!!!