by Gary Powell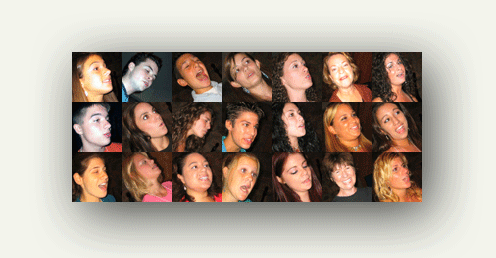 Top Row
Jennifer Waris, Patrick James, Jay Dref, Samantha Will, Jillian Ambrose, Barbara Levy Daniels, Danielle Calato
Middle Row
Colton Rudloff, Ashley Kate Alaimo, Kelly Warner, Collin Ranney, Samantha Taglienti, Katie Ralyea, Amanda Nagurney,
Bottom Row
Eva Burger, Caitlin Koch, Auria Fuentes, Chelsey Zimmerman, Rita Bella, Toni Silveri, Sarah Russell
————————————————————————
Ted Kryczko, Vice President of Product Development for
Walt Disney Records
, invited me to co-teach a class for singers at
The Buffalo Summer Institute in Media Writing and Production
in Buffalo, NY. The twenty-one singers pictured above showed up probably not knowing exactly what to expect from us. We, also, had no expectations about the level of talent that might show up.
The singers represent all age groups and presented songs from broadway, jazz, pop, coutnry and R&B. First of all, these people can sing. There is hardly anything more fun for me than to work with singers in groups, especially after we all get over ourselves. Finding our illusive "voice" in an event competitively styled to promise a real opportunity in the music business is a challenge for everyone. I suspect at the bottom of searching for a "break" are people who are sincerely intestested in learning to make better music and learning to be better communicators with their instruments.
All these people are going to sing throughout their lives….that's clear or maybe just my fantasy. But, they are all that good and my wish for all of them is that they contiunue to learn and grow and bring their gifts and discipline to their communities and the world.
Later, I'll give a more detailed post about this week-long class and what we all learned together.