By Gary Powell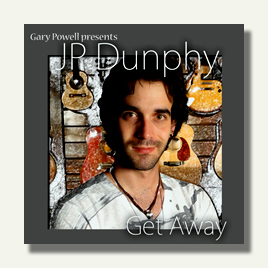 In the fall of 2008 I was holding a workshop; "Pop Vocal Performance Techniques for the Theatrical Singer" at DeSales University in the beautiful Lehigh Valley of Pennsylvania. This was my second trip to DeSales invited by theatrical director, educator and longtime friend Dennis Razze who directed me in the role of Jesus in JC Superstar in 1980. We've been best buds ever since.
The Broadway show as a genre has adopted many new vocal styles over the decades broadening the palette of sounds demanded of "Broadway" singers. Hence the workshop. My work in the recording studio since 1978 forced me to become fluent in every vocal style from barbershop quartets to hip-hop. These skills are what brought me to DeSales to present this vocal workshop.
While at DeSales, professor Patrick Mulcahy invited me to speak to his theater class. After class a handsome student, with an appealing scruffiness and iPhone in hand, asked if I would listen to his songs. After some cajoling and deal-making by JP with a student in the audio booth of the theater's black box, I listened about 30 seconds of JP Dunphy's singing, whipped out my Bose headphones and suggested we retire to the lobby to hear more and for me to listen more critically. Obviously, this young singer had some game.
JP's songs were mostly covers, but often more appealing from a vocal standpoint than were the originals. I had a couple of hours to kill, so JP graciously adopted me and helped me remember what it was like to be in college. We drove about town in his tricked-out Cooper Mini, which he continues to modify himself; all the while both our iPods were trading-off songs and blaring out the windows. JP picked up the pledged chocolate chip cookies for his fellow student and "black box" audio tech and returning us to his dorm room/recording studio. JP's songs were recorded in this very typical box-like college dorm room with bunk beds; not much audio gear, but loads of talent. Most of the time it's the other way around.
Ever since meeting JP I had wanted him to come to Austin and spend a week with me, but it took a couple of years for me to button up my previous contracts and to move my studio more toward talent development. We finally booked the travel plans and the recording sessions and our song "Get Away" is the first result. There will be many more offerings coming from JP Dunphy; some from me and some directly from him and others. My goal is to empower our most talented musicians and songwriters to take on the responsibilities of developing their music and performing careers themselves. In this, I am happy to me a mentor, sometimes producer and friend.
My best wishes to you, JP, and for your success.
You can follow JP Dunphy on both Facebook and Twitter.

"JP Dunphy, Get Away" Now Available for Worldwide Download from These Stores: