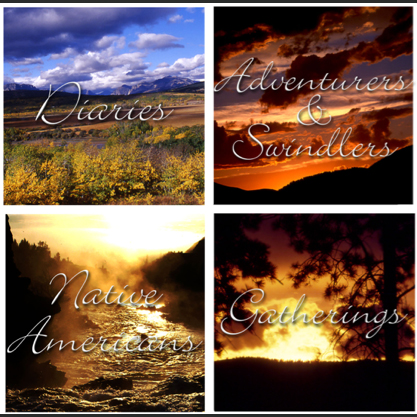 Using dairies, folklore, music and poetry, composer Gary Powell brings four aspects of this great American westward migration of the Oregon Trail into song; the show that finds a new path on an old trail….. SONG OF THE TRAIL
Song of the Trail
We think of our lives as complicated. Imagine leaving old hope behind; a decision which comes only from feelings held in the pit of your stomach. Again and again the pains come, and yes, again and again hope must be refreshed. Imagine this place so intensely bewildering that you would abandon family you love to escape oppressors you hate. Imagine singing your faith to scoundrels who would shoot you in the head just for practice. Not unlike our modern-day internet, this was a place where every lover, preacher, perpetrator, family, entrepreneur and gang risked everything for a new life – or new prey.
As for myself, I was an orphan boy, and my home was anywhere that I was treated kindly. I wanted to see the elephants, so I came West to grow up with the country.
– S. Hamilton, January 9, 1900
Read the Lyrics: THE ROGUE RIVER VALLEY from SONG OF THE TRAIL
THE ROGUE RIVER VALLEY
Words and Music by Gary Powell
It's a picture so perfect like uplifted prayer
Except for you, darling, nothing else can compare
Young light through the valley illumines old growth
And out of the shadow steps my love for you both
I traveled, survived alone and along
A hard dusty trail, bemused in my song
Littered dreams, foolish fancies and big pilgrim hearts
Gather here in this valley, nature's masterful arts
The Rogue River Valley and soft starry nights
The summer she slumbers in golden delight
The coolness of winter gives way to each Spring
Where the rain is as gentle as a bird on the wing
When the morning fog lifts and winter reveals
The overnight snow-covered mountains that feel
Like arms that embrace us like shields to protect
Our dreams from the journey, our hearts recollect
It's a land unimagined with bounty so bold
Where mountains once flamed and still smoke I've been told
A soil that's so rich we can cash our desires
Right here in this valley, our fear, it expires
Some call it luck that we got here and some only berate
But hard work's just a blessing disguised as our fate
I see beauty in your eyes and the gifts that you bring
So, will you, my darling, will you wear my ring?
It's a picture so perfect like uplifted prayer
Except for you, darling, nothing else can compare
Young light through the valley illumines old growth
And out of the shadow steps the love for us both
Copyright 2003 Jesmax Music, BMI
Read the Lyrics: THE FAR EDGE OF TEXAS from SONG OF THE TRAIL
THE FAR EDGE OF TEXAS
Words & Music by Gary Powell
Look a'way over yonder and see hope's debut
At morning's first sun-up you'll see quite the view
Of the far edge of Texas where boundaries abate
Where the heart and the land become one with our fate
When the dry wit of summer falls daft on the plain
And the dull roar of hopelessness, winter's refrain
There's a heart deep in Texas that's more than a song
And it holds us together and it binds us forever
It sings to whomever holds hope all year long
So when cold winds blow over and the clouds disappear
And the drought spirit whispers too near to our ears
When the inclement dream steals away restful night
And the harshness of life suffers fields into blight
Comes a bold self-reliance from working the land
And a deep held precaution of others who brand
With a herd not their own much less care understood
Here we learn from the land and the land does us good
We're an endless horizon from one star alone
We're a legacy built from the truth to the bone
We're an honest expression of what we know true
That the big eyes of Texas are upon you
So when cold winds blow over and the clouds disappear
And the drought spirit whispers too near to our ears
When the inclement dream steals away restful night
And the harness of loss suffers us too to blight
Oh Texas, oh Texas you've given your best
In the men and the women who've all passed your test
With their broad stroke of pen and a spirit this wide
You have held us together. You have bound us forever.
You've sung to whomever holds big Texas pride.
Copyright 2009 Jesmax Music, BMI
Diaries / Gatherings / Native Americans / Adventurers and Swindlers
Diaries
The story of the Oregon Trail begins with the question, "why?". The reasons of such a bold choice are answered in the diaries which have survived over 150 years. Disposing of property and separating from family and friends were assured powerfully motivated decisions. The Oregon trail was as likely to be a move away from something as a move towards another. Men folk, if they kept diaries, recorded events, period. Women were more likely to put their feelings and insights into the context of the events recorded by men. The insights gained from this pilgrimage are still germane to modern lives.
Gatherings

If we didtin make it to the Skookumchuck River feery before nightfall, we could always repair in the home of ole George Washington, feery attendant and owner.
– M. Baird, 1844
They gathered together with a common purpose from disparate desires. The soul of the hopeful and of the outlaw conjoined in places by both circumstance and opportunity. Every newborn town, divergent trail, supply station and watering hole became a place of negotiation, celebration and burial. Sutter's Mill, Oregon City, the Willamette Valley, the Rogue River Valley, the Barlow Road, the Dalles, Meek Cutoff, Applegate Trail, Fort Walla Walla and the Skookumchuck River Ferry all shared the full human experience of wonder and despair.
Native Americans

The next morning the red and white men seperated, each going their own way rejoiceing, at least we rejoiced to think we had parted with our neighbors on such easy terms, for they, if they had been hostile could have massacreed our whole company.
– A. H. Garrison, 1846
Looking back from the Twentieth Century, it is clear
that Indians were usually among the least of the emigrants' problems…
The very rare yet highly publicized Indian massacres overshadowed reported incidents which demonstrated the over-landers' experiential kinship with the Cree, Cayuse, Spokanes, Nez Perce, Siletz, Umatilla and Shoshone tribes. The many encounters with Indians being helpful to the emigrants dealing with the toil of travel like stuck wagons and injuries didn't make the headlines.
The Native American perspective must have held fear, confusion, and yet with possibilities. How were these uninvited encroachments of sacred hunting grounds and farm lands to be interpreted? The answer is with kindness, humanity and war. Molalla Tribe, A Molalla named Crooked Finger was angered by the increasing number of Euro-American emigrants claiming land that had been historically used by his tribe, and he led a small band of warriors in raids directed against the settlers. Cayuse Tribe, Spokanes, Cree, Nez Perce, Sioux, Siletz Tribe, Umatilla Indians, Shoshone, hired Indians to help transport his supplies, livestock, and nursery stock to his chosen homestead.
ADVENTURERS AND SWINDLERS

…Two men quarreled about a team, one shot the other, took his team and money….We immediately laid him out in his grave without even a rough box. As soon as our work was completed, we moved on toward the setting of the sun. — Unknown
High-minded values often didn't survive even the first brush of difficulties on the trail. Claim jumping was the domain of the lazy and unimaginative. People of "limited prospects" were unexpectedly thrown together with the scientist and entrepreneur. People of high virtue now shared the trail with every shameless wag, jester and scoundrel jockeying for political and economic dominion over the region. Surveyors, clerks, teachers and lawyers now were forced to keep vigil over their belongings, land, claims and families. Entrepreneurial spirit and hard conditions created some strange opportunities.
Menu of Shows