by Gary Powell, Event Producer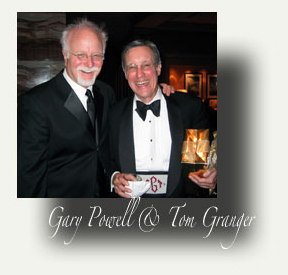 Click Photo at Right to Enlarge
Tom Granger, Chairman of the Board of Trustees at the Headliners Club in Austin, Texas, invited me to serve as event producer for the Austin club's 50th Anniversary Gala held at Renaissance Hotel on January 12, 2006. The Headliners Club has a rich history with members who MAKE history and NOT just Texas history. Over 800 attendees were treated to a "roast" of White House Deputy Chief of Staff, Karl Rove, served up by Mark McKinnon, John Sharp, Mary Matalin and Lowell Leberman.
The very clever Ralph Wayne, President and CEO of the Texas Civil Justice League,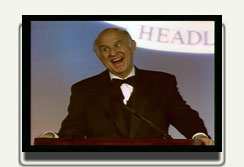 who is sort of like Bob Hope (except for being smarter, more energetic, more likeable and funnier) served as the evening's Master of Ceremonies using his long-gone hairline as adroitly as Hope used his golf club.
Tom Granger, partner of Midwikis & Granger, P.C., wrote a three-page historical summary of the club's 50 years and Sue Meller, the club's managing director, fed me hundreds of photos (and stories) from which to build a brief historical video documentary which we premiered at the event on two 12-foot screens. Tom is a kind and gentle human, so it was my job to make his written history match the spirit of the event which might have alternately been named "Grenades and Accolades". Lucky, I was raised in a family who communicated by hurling quips of Mark Twain, one of the original American grenade-launching wordsmiths.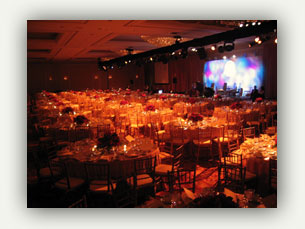 Being a composer, I looked for opportunities for an original song. The club's motto, "Non Quis Sed Quid", which translates "It's not who you are, but what you are", seemed like a perfect place to start. The song "It's Not Who, but What You Are" was written one day, recorded and mixed the next and beautifully sung by a wonderful singer who is new to my studio, Leslie Whiteley. Leslie is a elementary music teacher in Killeen and was introduced to me by long-time friend and colleague Larry Seyer.
The very same Larry Seyer, who owns Texas Video Productions, brought his wonderful eye and talent to edit the 13-minute video. So, after scanning some 600 photos, writing and editing the script, recording the voice/over with the deep, resonant voice of Craig Toungate, editing and mixing for four days, the video was done. There were also interviews of members who were taped at the club's Christmas party and there was a midnight run downtown to capture the fully orange U.T. tower with the giant #1 cascading downward. We also invested in the "west wing" of the Austin History Center for use of their wonderful historical photos of Austin. Thank you to Margaret Schlankey for her knowledge of our city, the people and year-model cars.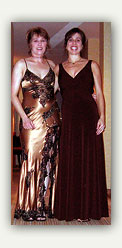 At this major Austin event we employed the trusted hostesses of the "In the Studio" concerts, Amy Person and Vanessa Joy (both full time psychotherpists), who were so helpful in smoothing attending members, guests and me AND for getting Karl Rove to dinner on time.
This event was an extraordinary experience for me to learn about this prestigious club's history, but more important, work with the wonderful people who inhabit it now. I am proud to have been entrusted by all concerned especially Tom and Beth Granger, Sue Meller and the Headliners staff.
My best professional regards go out to Steve Overby, Mike Noth and the crew listed below of AVW-Telav for their outstanding work under pressure.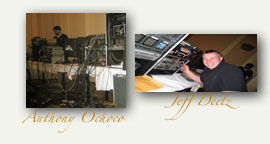 Also, thank you to Howard Fletcher of "First In – Last Out".
(Project Manager, Mike Noth / Audio Engineer, Aaron Foye / Video Engineer, Jeff Deetz / Tape Operator, Anthony Ochoco / Cam Op, Colin Jones / Cam Op, Hank Swania / Lighting Director, Ethan Balmer)