Mr. Powell, thank you SO much again for agreeing to answer my questions on such short notice. I am really excited to learn more about professional studio singing. You can answer the following questions to any extent that you see fit. I will appreciate any wisdom that you feel to pass on to me. Thanks again!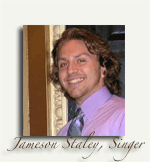 Jameson Staley,
Commercial Vocal Major
(Performance and Composition/Arranging Emphases)
Survey of Music Business 1110/Dr. Larry E. Wacholtz, Instructor
Belmont University, Nashville, TN
1. In your opinion, what qualities (musical and personal) are absolutely necessary for a professional studio singer?
Let's take the musical skills first. Most recording session work for vocalists is performed within some pre-existing recorded musical context. In the studio environment, the best "ear" is advantaged over the best "voice". This means I favor singers who can match tone, style, take both melodic and phrasing dictation and vocally respond to many other sculpting tools I employ. The "ear" to "voice" connection must be strong in order to succeed. My best singers are capable of my loading them with a dozen or so performance nuances or "commands" and then immediately sing them as requested…IN-TUNE!
Regarding personal qualities, learning one's own psychology is a long road. Management gurus say we "hire for skills" and "fire for aptitude" when it should be the other way around. I can teach a singer the skills they need if they have the aptitude and temperament to learn. Not every singer is up for this regardless of their "great voice".
2. Do you prefer to employ vocalists who specialize in a particular style of singing and hire them according to the project at hand or to use versatile singers that are experienced in various genres and styles?
Both! Singers who are musically adept across different genres will get more calls for session work. I would add that the ability to sing these differing styles within a vocal ensemble is even more important.
In my Austin studio, I have an equal distribution of solo, background vocal and choral work. All the singers I record have a natural strength stylistically. But remember, a totally unique voice may not be hired as often as a strong utilitarian instrument….. regardless of their talent.
3. How many passes should it take for a good vocalist to lay down a track?
Every vocal producer does this differently. I don't favor the "multiple pass" and "comp" (compile) it later method. I will sometimes use this method when recording an inconsistent singer or helping a singer who is not feeling well.
Typically, in a solo vocal session, I will first play the song for the vocalist which usually does not have a scratch (demo) vocal take. I next make sure we are in agreement about what notes to sing, discuss the interpretation and then leave them alone for about ten minutes giving them the ability to review at their own pace. If I have written the song, I'm more likely to play through it at the piano before introducing the recorded tracks to the singer. In any case, I have learned that it's important to remove any judgment from the room while the singer is integrating the piece into their very personal instrument. This is why I leave them to do this alone. After we get levels, I expect to have a workable performance within fifteen minutes or less. I am more likely to work and sculpt one solid and complete performance into a great performance phase by phrase. The relationship between performer and producer is complex, but be sure that I will try at some point to help the singer feel musically unshackled.
4. Are most studio singers trained in vocal technique (classically or in contemporary styles) or are many just naturally talented singers without formal training? What are things you like/dislike about each?
Most singers who work in my studio have had some organized vocal ensemble experience. I do hire singers who are trained classical singers. Occasionally, in a small choral ensemble situation, I will hire four "bel-canto" classical voices for size and four of my best "ear" singers for their speed in integrating the ensemble sound.
I love singers and will do everything to make their stay with me a pleasant and productive one. In my perfect world, the classical singers would have better ears and the "ear" singers would read music.
5. What are the best experiences from which singers can gain knowledge and maturity in order to become good studio vocalists?
A choral experience either in high school or later is very helpful, IF they are not forced to produce a sound for which their voice isn't suited. Choral directors are famous for wanting a bigger sound than the student voices are ready for. This guarantees these singers will be disabled from other forms of vocal expression. I could and may write a book on this as it is a topic on which I feel strongly.
This is important! Many producers don't write or read music. As a singer myself in other studios, I have never been handed a vocal chart. Never.
However, I will always write a chart for the sessions at my studio unless it's a three-part texture that I can do more quickly by ear or by what we call a "head-chart". I will always know the exact notes I want sung whether I write them or not. You, however, at other studios will often be asked to "find" your own parts. This excavating for a vocal arrangement can be an unnerving process if not prepared. Know it WILL happen and if navigated successfully, your skills will become an important asset to the producer who is not comfortable with this part of the production.
6. Do you pay your vocalists more or less money per session based on their ability or the difficulty of the job at hand, or do you pay them all at the same rate?
Pay scale is determined largely by budget, difficulty, and session duration (for "group sings"). Ensemble singers are always paid the same within each session regardless of my existing relationship with individuals. If I determine they are good enough to use in a session, then I feel they deserve the same pay. That said, I really prefer not to introduce a new singer into an ensemble situation until knowing their voice very well.
Twenty years ago, I hired a saxophone section to play a swing arrangement I had written for "Jingle Bell Rock". There was one read-through, one pass for phrasing and by the third pass we were done. The whole session took twenty minutes. At the time I think they were paid the minimum of $75 each.
That night three female singers came in to record a three-part texture of ONLY the bridge of the song. The parts were difficult and they were young and inexperienced. I remember they made $180 each. It was clear that being inadequate and slow paid more than competence and experience. I never pay strictly by the clock anymore. I budget what I think is a reasonable time for the session, then pay a flat rate usually based per song. There are now bonuses for beating the clock…. not stretching it. Fees are announced preceding, during and after each session. Nobody, including me, should be left in the dark about compensation.
7. How does a studio singer begin a career? What steps need to be taken to find work?
First of all, if a singer expects to do this as their sole source of income, then move to a city where this is possible……probably Chicago, L.A., New York or Nashville. Locate the jingle houses first. Nothing pays singers as well as jingle production other than stardom which is different topic altogether.
Show up! Listen. Learn. Adapt! Show up again! Repeat cycle for the rest of your life. (This advice is not just for studio singers!)
8. Is studio singing a solid enough career that someone could make their living from singing sessions alone? Is this only for the highest-paid, "first call" singers, or is this a realistic goal for many studio singers?
Yes, there are recording session singer careers out there, but you must choose a city where it exists. "First call" singers will be the only ones not having to supplement their income with other jobs. Things get more complicated as you enter markets like New York, but so does getting an apartment and buying groceries.
9. What is the single most important piece of advice you could give to young singers looking to be studio vocalists?
I don't have a single piece of advice. Life experience cannot be reduced to a single piece of advice. If someone can do that then they are probably just wishing it were so. I wish it were that simple too. That said, here is your starter kit.
Learn the difference between a dream and an aspiration.
Open an IRA. If needed, skip two pizzas per month to fund it. Never quit funding it. There's no retirement for most of us at the end of this music career, so take care of yourself. It's your life, so it's your responsibility. It's that simple.
Strive for honesty with yourself and with the people you are asking to help you.
Take a look at your arrogance. Most of us singers have it. It's our biggest obstacle.
Be both ambitious and fair in all matters professional and personal.
Thank you, Jameson, for your sincere and pertinent questions. My best for success in your life and career.
–Gary Powell