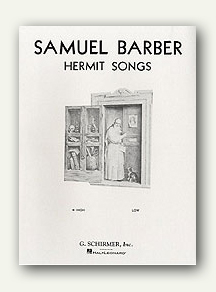 by Gary Powell
At 22 years of age in 1973, I was simply too young to connect with this lyric below viscerally, but nonetheless, somehow found it intriguing. I performed Samuel Barber's "Hermit Songs" in my senior recital as a vocal major in that year. Loneliness at that time was neither in my experience or aspirations. Now, understanding, accepting and living the solitude of composing music has recently brought this lyric closer to my heart and to a more complete knowledge of myself. Despite the sacrifices and compromises in almost every lattitude of my life from having chosen a career in music; it has been a good decision, and if for nothing else, the fullness of the experience. It is almost impossible to imagine myself being outside of the struggle of becoming and creating; both the quintessential archetypes held within the psychology of the composer. Within each composition, if looking, we can find the expression of a single life and how artistically that life has been lived. And now, how cool to actually be fully living what once was only a young man's intrigue found within the prose of fourteenth century monks and our "desire for hermitage".
Loneliness is the absence of the other, but solitude is the company of the self. – May Sarton

(Aniyia Williams, who is not a student of mine, here nicely sings "The Desire for Hermitage" from Samuel Barber's Hermit Songs)
The Desire for Hermitage
Samuel Barber, Composer (1910-1981)
The Poetry of 14th Century Irish Monks
Ah! To be all alone in a little cell with nobody near me;
Beloved that pilgrimage before the last pilgrimage to death.
Singing the passing hours to cloudy Heaven;
Feeding upon dry bread and water from the cold spring.
That will be an end to evil when I am alone
In a lovely little corner among tombs
Far from the houses of the great.
Ah! To be all alone in a little cell, to be alone, all alone:
Alone I came into the world
Alone I shall go from it.
All Content of Gary Powell's Site is Licensed Under a
Creative Commons Attribution-NonCommercial-NoDerivs 2.5 License


.