by Gary Powell
Nurturing cooperative relationships with university music schools is important to me. Without these schools the musical landscape will continue to flatten. The student musician brings a diversity of musical interests to their classical training with genuine relevance to them both personally and generationally. The popular and commercial musical arts have largely been viewed as outside the purview of ivory-tower conservatories. In October, 2009, I tried to make a bridge between these two camps in a four day vocal workshop hosted by Sam Houston State University. The workshop is designed to introduce to student singers the skills needed to work as a session singer in a professional recording studio.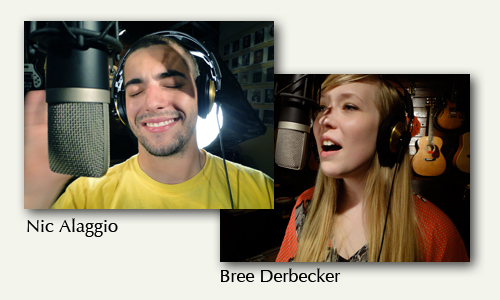 Monday afternoon, the auditions were scarcely attended. Three hours later as the word got out, there were a dozen or more singers waiting outside the audition room. I chose thirteen singers who worked with me twelve hours over the next three nights. I do not teach a one-way path to singing correctly. The popular arts are too diverse for that kind of judgment. I do teach the idea that singing itself is a discipline regardless of style. Within that discipline are songwriting and production skills; not to mention vocal arranging chops which often fall to session singers. The evening of day four we presented a demonstration recital of our three-day experience together to a warmly receptive audience.
Dr. James Bankhead, Director of the SHSU School of Music, agreed to pay a cash prize with the added opportunity to travel to Austin and record a featured song with me producing. Although we all audition for musical opportunities, I do not believe that the words contest and music should be uttered in the same sentence, especially on television. Add in all the U.I.L. learn-by-rote silliness and the N.A.R.A.S Grammy circus; these vested institutions have done far better for themselves than for any individual or in their supposed role of supporting music as an art form and profession.
THE AUDITIONS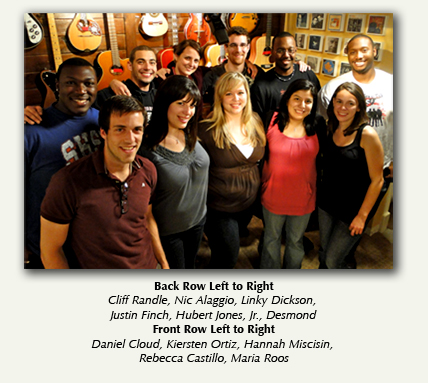 Bree Derberker, with a sparkling young face and long blond hair, harkening back to the sixties, caught my ear with a beautifully sung "B" natural (in the staff) with a tightly focused sound dead-solid in-tune. That perfect note is now on iTunes. Linky Dickson, a tall woman who blew into the audition as a handsomely thin whisp of cleverness, delivered her own penned songs like your favorite pair of old house shoes. Cliff Randal walked in with a canyon-wide Texas smile who became my immediate ally in the cause. Maria Roos delivered a beautiful soprano tone that was natural, in-tune and with no signs of being artificially re-sized for contests. Daniel Cloud; undeniable good looks and a quirky sense of humor sounded as close to Josh Groban as I've heard, but with a brighter tone and a penchant for R&B and barbershop quartet singing. Go figure! In our demonstration recital, Hannah Miscisin sang the song "Guilty" by Sara Bareilles which I had never heard or played before. During the performance, the sultry tempo naturally slowed – sometimes to a grand pause as I tried to get my ears around the next unpredictable chord change at the piano. Hannah sat in the stillness of this new version of the song as if it were always meant to be performed that way. Hubert Jones, Jr., a devastatingly handsome man with a rich baritone voice immediately disclosed ATO Records as his record company accompanied by his ambitious professional intentions after graduation. Rebecca Castillo said she wanted to better understand popular singing styles in order to relate to her students better as a music teacher when she graduates. Kiersten Ortiz and one-name "Desmond" allowed me to remember the passion of my youth when I wanted something so badly that the risks I took were worth it. I can assure both Kiersten and Desmond that their reaching out for this experience was seen and hopefully rewarded. Justin Finch, with a sculpted face and tightly focused tone built for musical theatre, was capable in every style I threw at him. Songwriter, and at the piano was Emily Elizabeth, who had more than the composer Palestrina on her mind. David Smith, the soul-man of the group, was fearless in his improvisations accompanied by his infectious personality. According to a recent profile article on the SHSU site, Jennifer Gauntt writes, "SHSU senior Nic Alaggio is a self-proclaimed band nerd." He is even more than that in excelling as a jazz and classical trumpet player who confidently walked into these vocal auditions with a beautiful Taylor acoustic guitar. He played a song he had written, "Go World Go," with a lyric delivering a personified Earth crying out to its oppressors. Nic's naturally rhythmic and earthy voice delivered this lyric of indictment with a punch impossible to ignore.
Dr. Bankhead and I decided that this vocal workshop experience would be best for all concerned if all the students came to Austin for the recording sessions in my studio; Powell Studio Productions. As Paul McCartney said, "Let It Be."
The sessions happened over a long weekend in early May, 2010. The song we chose was a mash-up of Bree Derbecker's heart-felt song and Nic Alaggio's earthly protest. Fortunately, they were both in the key of "G" major, and with Bree picking up her tempo and Nic slowing his down, the two songs were a perfect fit. All of the tightly-voiced background vocal parts were scored and some were simply head-charts. The parallel group male part sung under the lead vocal in verses two and three were all written and learned on the spot. Guitars were played by my long-time associate Larry Seyer and trumpeter Nic Alaggio. Again, go figure.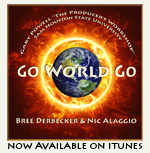 "Go World Go" written by Bree Derbecker and Nic Alaggio featuring the singers from Sam Houston State University is now available on the Miramuse Label on iTunes and Amazon.
Gary Powell "The Producer's Workshop" begins again with auditions on October 4, 2010 at Sam Houston State University.