by Gary Powell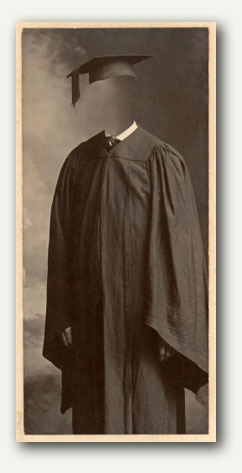 Upon leaving academia, every career path in the music and media businesses immediately becomes unique. Successful individuals have each created their story, unless they came into their professional life as a legacy which is a whole 'nother topic. Our unique stories is why global advice is so easy to get and so hard to follow; and is advice seldom effective in its practical application. Worse than that is the fact that the eduction we did get can be misleading or even harmful under the stress-test of a real-world artistic career. If you find that your cap and gown has left you disrobed or simply had nothing to do with who you are as an artist or how you earn money as an artist, then read on for the good news.
Whether the graduation robe was relevant or not, you will still have to create the success you desire….. yourself.
After working in the music business full-time since 1976, I still struggle to find time and money to produce what I consider to be the truest and best expression of my life and capabilities. Certainly, aspirations can fuel the search for perfect artistic and financially rewarding expressions. Also, maybe we have identified a mission for our music of some particular choosing. When aspirations are not enough or the poetic mission-statement fails, it might be time to take our dreams to the gym in the form of education; either formal or not. Figuring out what kind of education is right is the next challenge on the path to our unique selves. Oh, I forgot. You may already consider yourself educated. If so, continue reading.
We artists did not choose to study finance, accounting or business, so more than likely we will have to forge this new career path ourselves. Where were the courses in Entrepreneurship in the Arts when we were being educated the first time? Even in the height of my career, I continue to seek out mentors to discern some sage advice which might be applicable to my own psychology, circumstances and talent; all things which are in constant flux.
Other careers may have offered stability with dutiful profits and financial security. We didn't choose that, did we? So, seek out music mentors, accounting and investment mentors and business mentors; seek out those who have walked a mile in the shoes you want to wear but haven't even picked-out yet. Regardless the size of a mentor's career, most successful people are surprisingly willing to help other aspiring individuals. Understand that their advice is not necessarily to be followed, but it is there to be integrated within your own circumstances. I'm still learning. I hope you will too. Whether the graduation robe was relevant or not, you will still have to create the success you desire… yourself.

All Content of Gary Powell's Site is Licensed Under a
Creative Commons Attribution-NonCommercial-NoDerivs 2.5 License


.