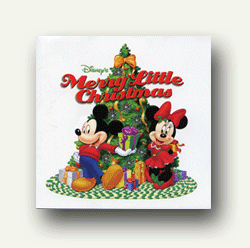 Jesmax Music, BMI, owned by composer Gary Powell, is pleased to have placed two songs, "My Gift is You" and "The Laughing Song", on the album "Disney's Merry Little Christmas" for Walt Disney Records. Also sharing credit on this album is a third song written by Powell and Gates, "Hey Santa", from the catalog of Wonderland Music and performed by Huey, Dewey and Louie. The loveable nephews of Donald Duck first made their appearance for Disney in 1938 and Mr. Powell is excited to have a song sung by such veteran performers. Amazing talent Russi Taylor, a long-time Hollywood voice actress, might deserve a little credit as well.
Please note that I sell no Disney products on my site. This CD can be purchased exclusively at Target stores across the country.
HEY SANTA
Lyrics by Gary Powell & Debbie Gates
Music by Gary Powell
HUEY
HEY SANTA,
I'M WELL AWARE THAT THINGS ARE TOUGH
AND IT'S YOUR BUSIEST TIME OF YEAR
LOUIE
THE EASTER BUNNIES' WORK IS DONE
AND NOW YOUR CHRISMAS TIME IS HERE
DEWEY
YOUR LIST IS PRETTY LONG
WITH WHO LIVES WHERE AND WHAT THEY DID
HUEY
BUT IT'S NOT MY FAULT YOU'RE OVERWORKED
I JUST A GROWING BOY
TOGETHER
WE'RE STILL JUST KIDS
LOUIE
SO, MY HOPES ARE PRETTY HIGH , YOU SEE
BUT I STILL HAVE ONE BIG FEAR
THAT BECAUSE YOU'RE STRESSED YOU MIGHT FORGET
WHAT YOU ARE BRINGING ME THIS YEAR
DEWEY
SO, HERE'S A LITTLE HELP
SO THAT YOU CANNOT GO WRONG
HUEY
ALL THE THINGS THAT WE DESERVE
TOGETHER
COMPOSED INTO A SONG
HUEY
I'D LIKE A TRAIN THAT BLOWS REAL SMOKE
AND A TOY FACTORY TO MAKE STEEL
LOUIE
A B.B. GUN,
DEWEY
A LEAD GUITAR
HUEY
AND A PET ELECTRIC EEL
LOUIE
A HUNDRED ACTION FIGURES
TO BECOME MY CLOSEST FRIENDS
DEWEY
AND A GIANT BRAIN, HOMEWORK MACHINE
SO MY PLAY WON'T HAVE TO END
HUEY
A BIKE THAT HAS A SIREN
SO I CAN FLY UP TO THE MOON
LOUIE
AND A LIFE'S SUPPLY OF HELIUM
TO BLOW UP ALL BALLOONS
DEWEY
HAVE YOU GOT IT NOW? LET'S TAKE A BREAK
TOGETHER
PLEASE, SANTA LET'S DISCUSS
DEWEY
BEFORE CHRISTMAS GETS HERE THIS YEAR
WHAT YOU ARE BRINGING US
TOGETHER
(Sigh)
HUEY
HEY SANTA
LET'S STOP THIS TALKING ABOUT ME
I KNOW THAT YOU HAVE FEELINGS TOO
LOUIE
AND ONE DEADLINE YOU HAVE TO MAKE
FOR ALL MY DREAMS TO COME TRUE
DEWEY
YOU'VE GOT LOT'S OF LOVELY TOYS TO MAKE
FOR EVERYONE THIS YEAR
HUEY
BUT IT'S NOT MY FAULT YOU'RE OVERWORKED
WE ARE JUST GROWING BOYS
TOGETHER
JUST KIDS!
LOUIE
SO, MY HOPES ARE PRETTY HIGH
BUT I AM SCARED OUT OF MY WITS
THAT YOUR REINDEER ARE AS TIRED AS YOU
AND YOUR SLEIGH IS ON THE FRITZ
DEWEY
SO, IF I MAY BE OF HELP
TO EASE THE PAIN OF WHAT YOU DO
HUEY
THERE'S LOTS MORE STUFF THAT WE DESERVE
TOGETHER
COMPOSED INTO VERSE TWO
HUEY
IS IT A CAR THAT BURNS REAL GAS
OR A TOY BROTHER WHO GETS LOST?
LOUIE
A TOMMY GUN
DEWEY
A BUSINESS CARD
THAT SAYS I AM THE BOSS?
HUEY
A MILLION COLORED MARBLES
OR A PRIVATE ZOO FOR ME?
LOUIE
A TREE HOUSE FOR MY UNCLE?
TOGETHER
HE CAN HAVE THE QUEEN FOR TEA!
HUEY
A ROOM THAT HAS A VAULT DOOR
FOR MY PRIVACY AT HOME
LOUIE
AND A LIFE'S SUPPLY OF BUBBLE GUM
TO BLOW THE BIGGEST BUBBLES KNOWN
DEWEY
IS THAT ALL THERE IS? OH, ONE MORE THING
I WON'T EVEN MAKE A SOUND
TOGETHER
NOT US
HUEY
NOT EVEN ONE MISTAKE
WHEN YOU COME TO TOWN
LOUIE
WE'LL BE SO GOOD, NOT ONE MISTAKE
TOGETHER
WHEN YOU COME TO TOWN!
(Copyright Wonderland Music Company, Inc., BMI 1993)