by Gary Powell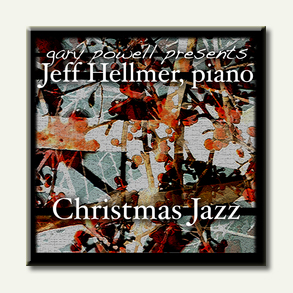 Jazz pianist and long-time friend Jeff Hellmer came to the studio in 2008 with the purpose of creating a solo piano recording of seldom-heard Christmas songs. Jeff was graciously helping me build a catalog of holiday music for Miramuse, which at the time was a business-to-business solution for helping companies learn how to best utilize music to enhance their brand or deepen their relationships with customers and even employees.
I had researched ancient hymns and carols in the mid-1980's for Ensemble 109 at the University of Texas and had written several vocal arrangements for several of these beautiful pieces of music; most of them lost to antiquity. Jeff freely improvised from these original hymn arrangements delivering a freshly re-harmonized interpretation of these ancient carols. Jeff also added a classic in "Oh Christmas Tree" and and one of my own tunes which I wrote as he waited, "Enchanted Star."
The gift Jeff Hellmer brings to us is a relationship to music that belies that relationship's underlying complexity while deepening our own. Jeff's musicianship invites us to engage his music in an atmosphere free of self-agrandizement. What's that sound like? The sound is alive, safe and disarmingly intelligent! – Gary Powell
Now this recording is available for download from iTunes, Amazon and Rhapsody for the rest of the world to hear. Thank you Jeff for making my Yamaha C7 sound better that I could ever do myself. Also, thank you to master piano technician, Brian Henselman, for keeping this piano in top shape.

"Jeff Hellmer, Christmas Jazz" – Now Available for Worldwide Download from These Stores:

Jeff Hellmer, Christmas Jazz
1. We Three Kings
As an old Flemish carol, the first melody Jeff Hellmer plays is entitled "Three Kings" and predates the long-loved Christmas classic which happens later in the piece.
Kings are here both wealthy and wise
Come riding far over the snow covered ice
Royal in throng, Noble in song
They search for the child, the Redeemer of wrong
With tambours and drums
They go sounding along
With tambours and drums
They go sounding along
2. Saint Stephen
Saint Stephen was a holy man
Endued with heavenly might
And many wonders he did work
Before the people's sight
And by the blessed Spirit of God
Which did his heart inflame
He spared not, in every place
To preach God's holy name
O man do never faint nor fear
When God the truth shall try
But mark how Stephen, for Christ's sake
Was willing for to die
3. Oh Little Town of Bethlehem
4. Lute Book Lullaby
From the Lute Book by William Ballet, early seventeenth century, Trinity College, Dublin.
Sweet was the song the Virgin sang
When she to Bethlem Juda came
And was delivered of a son,
That blessed Jesus hath to name
Lulla, Lulla, Lulla, lullaby
Lulla, Lulla, Lulla, lullaby
Sweet babe, sang she, my son
And eke a Saviour born
Who hast vouch safed from on high
To visit us that were forlorn
Lulla, Lulla, Lulla, lullaby
Sweet babe sang she
And rocked him sweetly on her knee
5. Oh Little One Sweet
Jeff Hellmer freely interprets the original melody with lyric by German, S. Scheidt, 1650.
The second verse are the exact harmonizations written by J.S.Bach.
O little one sweet, O little one mild
They Father's purpose thou hast fulfulled
Thou cam'st from heaven to mortal ken
Equal to be with us poor men
O little one sweet, O little one mild
6. Oh Christmas Tree
7. Dark the Night
This is a free translation of a Welsh carol by the Reverend W. Lloyd. The tune and original Welsh words first appeared in Carolan Nadolig by Canon Owen Jones.
Dark the night lay, wild and dreary
Moaned the wind by Melchior's tower
Sad the sage, while pondering weary
O'er the doom of Judah's power
When behold, the clouds are parted
Westward, lo, a light gleams far!
Now his hearts true qauest has started
For his eyes have seen the star.
8. Come, Love We God
The tune and parts of the illegible ten verses of the original are from a collection drawn together
by Richard Shanne in 1611 from Methley, Yorks.
9. The Leaf
A through-composed piece by Gary Powell
10. The Babe is Born
11. Spanish Carol
12. Enchanted Star
Composed by Gary Powell