by Gary Powell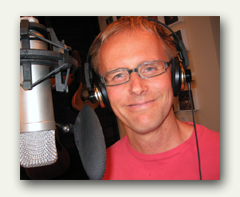 One of the best aspects of working as a producer for Walt Disney Records is the variety of song styles and orchestration they ask for. Sometimes this calls for discovering talent such as a new Pink, or Julie Andrews, or Jiminy Cricket or, in this case, Johnny Mathis. Believe me that it is much easier to identify a current-day pop singer than a fabulous crooner like Andy Williams or Johnny Mathis. In this case, the song was the 1963 Christmas tune, "The Most Wonderful Time of the Year" by Eddie Pola and George Wyle. They also wrote "I Said My Pajamas (And Put On My Pray'rs)". George Wyle also penned the theme song from "Gilligan's Island"!
I'm very open to discovering talent…..not press release talent……not headshot talent…..but the real thing. Enter Craig Johnson, sometimes known in the professional conducting world as Craig Hella Johnson, who is the artistic director and founder of Conspirare, a nationally prominent and professional choral ensemble based in Austin, Texas. The recording session took place in my Austin recording studio on July 13th, 2005.
I knew Craig had a broad interest in popular and varied vocal styles. We've had several conversations on that subject since meeting in 1990. Our paths run in non-conincidental circles, so this was our first time to work in the studio together. Most singers from the classical world don't fare well when asked to deliver stylistic nuances not usually present in the classical genre. Popular singing is more about what happens at the intersection between notes and classical singing is more about what happens on the note itself. In the studio, all rules are off and every vocal nuance comes under negotiation.
And what a negotiator Craig is! He moves in and out of beautifully round tones with ease and poises a musical phrase for expression like a cat ready to pounce. This is what makes my job exciting. Craig and I had fun sculpting his Johnny Mathisoinan performance and it was a pleasure working in the studio with this consummate musician and singer. I think we'll be conspiring together more very soon.