by Gary Powell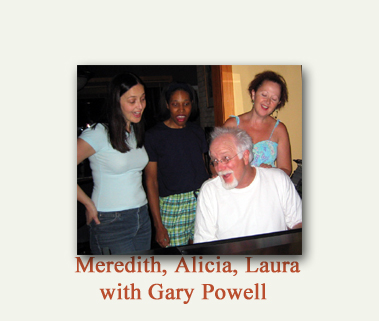 Last night was just plain fun recording Meredith McCall, Alicia Jones and Laura Benedict. All three singers have been working here at Powell Studio Productions for decades and will have their rich histories documented here soon. Together we arranged the parts for two songs on the spot with the girls in front of the mics. With no notes written, we call this a "head-chart". I had worked out some ideas before beginning the session, but nothing was written down. It's an exciting way to create group vocals. I have a midi keyboard at the mixing console and together we create the voicings (how the notes of each chord are stacked and who sings which one) and then the singers deliver the performance on the spot. It's dazzling how quickly this process goes forward with experienced and talented singers with studio experience.
The first song was a remake of "Rocking Around the Christmas Tree". Laura Benedict reminiscently sang the lead of Brenda Lee's signature performance. Laura then stayed to sing the background vocals with Meredith and Alicia. We decided not to reproduce the "choir-like" squaresville vocals of the original. We went with a three-part texture that was sung with a more typically modern pop vocal sound.
The second song was one of my new Christmas songs for children. The arranging technique became more interesting as we progressed through this theatrical piece. In the song's prologue the BG vocals were used to accentuate the interesting harmonic changes (IE, the single line melody was sure to include the augmented 5th of the augmented five chord.)

It made for a nice etherial element emphasizing the harmonization choices. Next the girls picked up on the fun bass guitar part of the choruses by doubling the bass two octaves up with their best upright bass thumping vocal sound. Next, we found a few lines of the lead vocal that we harmonized in a single part a third above. At the end of the song we sang in three parts for the first time to support the big ending. None of the three parts doubled the lead vocal as we decided to keep the voicing tight and underneath the lead melody line.
We cut all three girls using a mid-side micing technique with two AKG-414's running through Mark McQuilken's RNP (Really Nice Preamp). I have found this mic configuration only works when using very experienced singers who can manage to learn their part on the spot, deliver a perfectly in-tune performance and "mix" themselves as it all goes down. These skills can never be taken for granted just because someone is an awesome singer. It's something entirely different from being a solo performer.
Thanks you guys for a really fun night.