by Gary Powell
Click Here to Visit Craig Toungate's Site
Click Here for Craig Toungate and Susan Lincoln's Workshops and Performances




Everybody in the Austin music scene has nice things to say about Craig Toungate. When I was searching for the right singer to capture the essence of Chubby Checker, all resources pointed to Craig Toungate. Craig and I had served on the board for the Austin Music Umbrella in the early 1980's, but had never worked together. (Craig has more than a thirty year career as a professonal singer, entertainer and teacher.)
Well, Craig delivered up "The Twist" as if Chubby was in the studio. It didn't end there. Soon after, Craig had remade many of the great soul tunes of the sixties in my productions for Walt Disney Records. It didn't end there either. Quickly we all discovered Craig's ability to reproduce many of Disney's most beloved characters.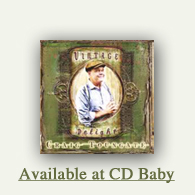 So, for the past decade or so, Craig has been performing in my studio as many different characters, occasionally even appearing as himself. Executive Producer, Ted Kryczko, suggested that Craig could be an "X-Files" episode all to himself for his ability to channel these great performers. But it doesn't end there. Craig has also created new characters for the songs I've written for Disney. Check out the evil performance of "The Collector" from Toy Story 2 Sing Along or the disgruntled, yet delightful reindeer in "Pulling Santa's Sleigh". In two other Gary Powell-composed songs, "And I Eat Pigs for Breakfast" and "Pirates of the Black Tide", Craig becomes a rappin' Big Bad Wolf and one nasty Singing Pirate who must be reckoned with respectively.
So, whether it's Craig Tougate as Bert singing "Spoonful of Sugar" or as Jiminy Cricket singing "When You Wish Upon a Star", you are hearing the singer Walt Disney Records trusts with their most precious catalog performances.
These Craig Toungate solo performances can be found on various Disney Karaoke and other recordings listed below. Please note that I do not sell these recordings. For more information please go directly to Walt Disney Records or follow the links below for specific titles.
The Lion King Performances
"Warthog Rhapsody", "Be Prepared", "Can You Feel the Love Tonight?", "Hakuna Matata"
Toy Story 2 Sing Along
Mary Poppins Karaoke
"Jolly Holiday", "I Love to Laugh", "Let's Go Fly a Kite", "Spoonful of Sugar",
Chim-Chim-Cher-ee", "Supercalifragilisticexpialidocious"
Dance Along
"The Twist", "Shout", "Born to Hand Jive"
The Little Mermaid Performances
"Les Poissons"
Aladdin Performances
"Prince Ali", "Friend Like Me", "Arabian Nights", "One Jump Ahead"
Jungle Book Performances
"The Bare Necessities", "I Want to Be Like You", "Baloo"
Party Beats
"And I Eat Pigs for Breakfast"
Various Other Toungate Performances
"The Elephant's Face", "When You Wish Upon a Star", "From All of Us to All of You", "The Ugly Bug Ball", "Tigger Just Can't Sleep", "Easter Parade", "The Purple People Eater", "Twist and Shout", "The Laughing Song", "Pirates of the Black Tide", "Yo Ho, Ho! (And a Bottle of Rum)
Chorus Performances
"Zipadeedoodah", "When You Wish Upon a Star", "YMCA", "God Help the Outcasts", "Bibidibobbididoo", "California Sun", "Surfin' USA", "Twistin' the Night Away", "Little April Shower", "Mickey Mouse Club March", "I'll Make a Man Out of You", "I Just Can't Wait to Be King", "Shiver My Timbers", "Sailing for Adventure", "Blow the Man Down", "Pirates of the Black Tide"