by Gary Powell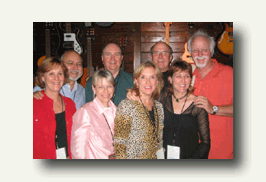 Although not complete as a full evening's theatrical piece, it was my first performance of Aristotle's Prayer on November 12, 2005. These "In the Studio with Gary Powell" performances have been attracting not only special performers, but a special clientele as well. The breadth of knowledge and experience in the room was particularly noteworthy this Saturday night. In keeping with the professional format of this weblog, I won't go into details on our guests but to say that the most influencial people and friends in my life were in attendance. I was most honored with their presence and support.
There are only an handful of evenings that one will remember the rest of their life. This was certainly one of those for me.
The lyrics and content of this performance ask a lot from the audience, so I printed the lyrics for everyone to follow if interested. It will be interesting to learn how these very bright people engaged this music. I had four guest readers recite historical information to help set up each song. Ralph Person read about Galileo's trial before the song, "The Boys in Red" and "How Do I Go On from Here?". Alice Gerhart read the words of Galileo during "The Boys in Red". Tom Granger read about the philosophy of Adam Smith before, "Which Side of the Penny is Yours", and Don Smith from Bryan, Texas, read about the calamitous year of 1929 before the song, "I'm Gonna Get My Needs", about the demands of Joseph Stalin on the Ukranian farmers. Austin performers, Craig Toungate and Susan Lincoln, joined me to sing the opening tribute to Rosa Parks, "The Spirit of Rosa".
Moving to the recording studio for Act II, Craig Toungate recreated four songs that he has performed for my productions for Walt Disney Records. I also sang a couple of my songs in the studio that I've written for children. The audience, which was more like a homecoming, had to go from Joseph Stalin's massacres to "Be a Hyena" with only Italian creme cake in between. I think only your friends would be willing to make this jump with you.
My most humble thank you to all my supporters and loved ones in attendance. I promise this whole piece will be complete soon and I hope you'll come back. If you have questions or comments about the lyrics or content, please feel free to leave them right here on this weblog. This was a night that I, along with Amy, will remember forever. Thank you for helping me launch a new idea, a new performance and a new self.
Pictured from left to right: Janet and Earl Hale (Dallas), Missy and Dick McCarroll (Austin), Cindy and Jay Carter (Dallas), Amy Person and Gary Powell
Thanks to friend and colleague, Larry Seyer, for engineering the session.