by Gary Powell
I have fielded many suggestions for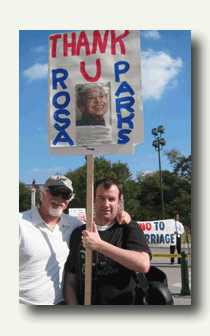 songs featuring our great women manumitters.
Susan B. Anthony, Elizabeth Cady Stanton, Sojouner Truth, Harriet Tubman, Ayn Rand, Mother Teresa, and Rosa Parks were all at the top of people's lists from my informal survey.
The seminal events accredited to great emancipators are seldom born in a single instant. Rosa Parks' simple expression of truth over power was not a simple knee-jerk reaction. By her own accounts, her awakening of unconscious pain happened in a single instant. However, the crime of treason against humanity she had carried throughout her life. Rosa Parks' triumphant moment of reason over darkness has earned her place not in the back of the bus but at the front of "Aristotle's Prayer".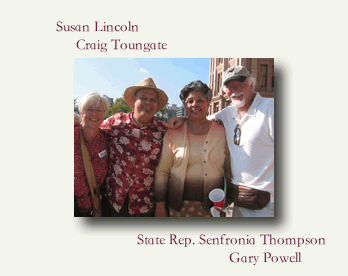 Today, I performed "The Spirit of Rosa" for the first time with Craig Toungate and Susan Lincoln at the rally on the State of Texas Capitol steps opposing "Proposition 2" which would amend the Texas state constitution eliminating any legal rights for gay marriages.
The Spirit of Rosa
Chorus 1
The spirit of Rosa, roll over me
The spirit of Rosa, roll over me
The spirit of Rosa, roll over me
The spirit of Rosa, Rosa, roll over me
Chorus 2
The spirit of truth over power, roll over me
The spirit of truth over power, roll over me
The spirit of truth over power, roll over me
The spirit of truth, truth, truth, roll over me
Chorus 3
The spirit of reason over darkness, roll over me
The spirit of reason over darkness, roll over me
The spirit of reason over darkness, roll over me
The spirit of reason, reason, roll over me
(Copyright Jesmax Music, BMI 2005)