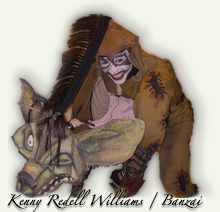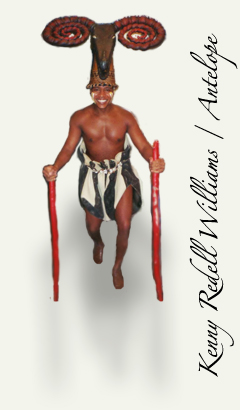 by Gary Powell
Kenny Williams auditioned his way into my life in 1987 while he was studying voice at the University of Texas. In my life he has been and will stay. Kenny started his theatrical career at Austin's Zachary Scott Theater Center performing in "Once on This Island," "Five Guys Named Moe," "Forever Plaid," "Blues in The Night," "Gospel at Colonus" and originated his unforgetable toes-turned-up-elfish role in "Rockin' Christmas Party" – the "Beehive" spin-off created by Austin director Dave Steakley.
Kenny left Austin in 1997 for his first national tour, appearing in "Grease!". A year later, in 1998, he joined the national tour of "Smokey Joe's Cafe" which later landed him in New York City. Not to be intimidated by NYC, Kenny joined the Broadway Company of The Lion King on May 28, 2002! The show is performed at the 1,597 seat Minskoff Theater located at 1515 Broadway.
So, just fifteen short years after I met Kenny Redell Williams, he catapulted onto the Great White Way with yet another story of over-night success – full of training, discipline, talent, persistence and several hundred auditions.
To hear this amazingly silky, smooth and emotionally moving voice visit Kenny William's MySpace page or go hear Kenny in person in his own show "Just For The Love Of It….. Kenny Williams Sings!" on May 5, 2008 at Sortie, 329 W. 51 Street, New York City. Kenny sang two songs on my very first album produced for Walt Disney Records, "Disney Babies Playtime" in 1989. I am proud to have been part of Kenny's early creative life and also proud to have had him in mine. I am looking forward to many more projects together in the future.
Click the photos above to enlarge and see the full size versions of Kenny backstage and in costume.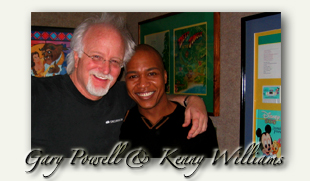 These Kenny Williams solo performances can be found on various Disney Karaoke and other recordings listed below. Please note that I do not sell these recordings. For more information please go directly to Walt Disney Records or follow the links below for specific titles.
The Lion King Performances
"The Circle of Life"
Various Disney Group Performances
"Celebrate,"(from Pocahontas), "I Hear Thunder," "Twist and Shout"
Solo Performances
"Imaginaria",
(released on Miramar Productions), "Wiggle Your Toes," "Here is the Church" (from Disney Babies Playtime)
with "Wiggle Your Toes" also appearing on the Disney album "Mother Goose Songs and Rhymes"
Solos for Gary Powell
"Love Means Forever" (Ensemble 109 – The University of Texas), "Magical Dreams Come True" (Demo for Disney World, 1995)