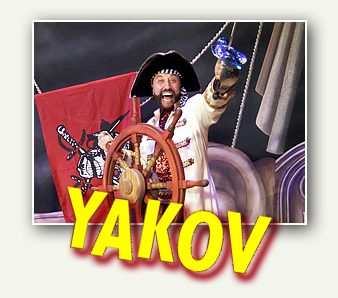 by Gary Powell
Yakov Smirnoff and I first met while sailing together as "Cruise Directors of the Caribbean" in 1978. We were twenty-five years ahead of Captain Jack Sparrow's appearance. Did we both actually dress up like pirates on Royal Caribbean Cruise Lines Pirates' Night? Of course we did, but, in 2008, Yakov is doing it again and in style! This time he and his cast from "The Yakov Smirnoff Show" are singing a parody of my tune, "Pirates of the Black Tide," not on the high seas, but in Branson, Missouri. Did our earlier Caribbean swashbuckling-midnight-buffet adventures set up this new collaboration thirty years later? Oh, there are too many escapades to tell that we will both take with us down to Davy Jones locker!
Although not a singer's singer, Yakov has performed several of my songs since 1978. He thinks he sucks. I don't. I think that when you give him 2,000 adoring fans in his own theatre, tighten the spotlight, and let him sell it, the "almost" part of being a singer is washed away with his sheer and demanding presence. It's something to be seen and serves as an excellent lesson for young singers to quickly absorb by watching this very real performer.
In 1978, Yakov was a new American. Now, he is a model American as foretold and defined by our founding fathers. In that and in his show, you will see the truest traits of this individual striving to build a life which reflects the strongest and most ambitious vision for himself and for us all. This is the ground on which our friendship is anchored. It's a friendship of choice, reflection, and unwavering loyalty and honesty – one could say, the pirates' code.
Sail on my friend. I'm at your rear quarter and you are at mine.
For ticket information and show times, please visit The Yakov Smirnoff Show. On my site you can read the lyrics and story behind "The Pirates of the Black Tide", Words and Music by Gary Powell and published by Jesmax Music, BMI.