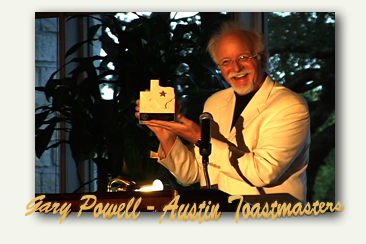 On June 24th, the Austin Toastmasters Club presented Gary Powell with their respected "2008 Communication Achievement Award." The club's 28th annual banquet was held at the Austin Country Club. Kristi Curry, owner of Survivorship Now, presented the award and introduced Gary Powell.
No one is quite sure how Mr. Powell was nominated for this award – much less how he won it. Club president, Scotty Burch, suspected foul-play. Others, however, because of the uncommonly beautiful club members, men and women alike, were simply suspicious of illegal Botox being smuggled from Mexico through Mr. Powell's studio. We will continue to monitor how many Toastmasters' music careers soon start to blossom. Regardless of the accusations, Gary Powell has the trophy displayed in a place of honor in his Austin recording studio.
Mr. Powell's parents, longtime Austinites Max & Jessie Powell, who now reside in Huntsville, Texas were present at the event along with Gary's life-partner and Austin psychotherapist Amy Person and her parents, Ralph & Peggy Person of Temple, Texas. This was a most gracious evening for Gary Powell, who would like to thank Scotty Burch, Kristi Curry and all the club members who gave him such a graceful reception. Mr. Powell's speech is best described here by club member and presenter, Kristi Curry.
Our keynote speaker took us on a tour through the internal spaces of a producer, musician and someone who has a heightened awareness of changing the world with music. He told us how seamy the music business can be, and how this music industry is a barometer of the health of our culture … like canaries in a coal mine. Gary then took us on a tour of what it's like to compose music. As he played on a baby grand piano, he walked us through the process. He added humor, drama, random thoughts and a little peek into the "other side" of a symphony production. Finally, he brought it all together with how he writes music with the most personal themes. He sang, "In My Palm," – the lyrics describe what we all could only have wished for from our parents at our birth." – Kristi Curry
Past Honorees
2008, Gary Powell – Composer/Producer
2007, Ronnie Earle – Travis County District Attorney
2006, Sarah Weddington – Attorney, Leadership Philosopher
2005, Judy Maggio – Anchor, CBS-42 K-EYE News
2004, Kinky Friedman – Humorist, Performer, Mystery Writer
2003, Liz Carpenter – Author; Lecturer
2002, Admiral Bobby Inman – Venture Capitalist, Austinite of the Year
2001, Kirk Watson – Mayor, Austin Texas
2000, Chuck Meyer – Minister; Author
1999, John Kelso – Humor Columnist; Author
1998, Marion Winik – Author; Lecturer
1997, Willie Kocurek – Community Leader
1996, Toody Byrd – Humorist; Lecturer
1995, Lloyd Doggett – U.S. Representative
1994, Cactus Pryor – Humorist
1993, Brigid Shea – Director, Save Our Springs
1992, Nick Barbaro – Publisher, The Austin Chronicle
1991, Molly Ivins – Syndicated Columnist
1990, Ben Sargent – Political Cartoonist
1989, Wally Pryor – Sports Broadcaster ("Voice of the Longhorns")
1988, Gonzalo Barrientos – Texas State Senator
1987, Jodie Conradt – U.T. Women's Basketball Coach
1986, Barbara Jordan – LBJ Centennial Chair on National Policy, UT Austin
1985, Jim Hightower – Agricultural Commissioner, State of Texas
1984, Ann Richards – Treasurer, State of Texas
1983, Ron Mullen – Mayor, Austin Texas
1982, Neil Spelce – TV News Anchor
Mr. Powell has agreed to terms with his estate and airs to make the video, which was recorded during his speech at the Austin Toastmasters Club, available for release to the public 25 years after his death.
Pictured at left and from left to right are: Susan Baughman, Max Powell, Gary Powell, Jessie Powell, Helena Escalante.