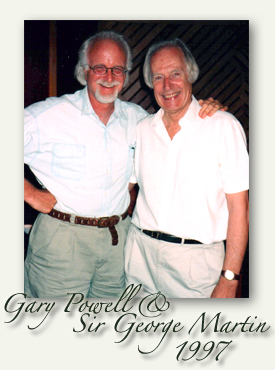 by Gary Powell
Coming home from the dentist in the spring of 1997, I found an unusual message on my answering machine. It was a female voice with a very proper British accent asking, "Gary, Sir George Martin is calling from London. Would you please ring us back?" I was not used to the title of Sir being in front of the Beatles' producer's name, so it took me a minute to snap to.
Of all the musicians or producers I would want to meet, George Martin would be at the top of the list. I took a deep breath, hoping this was not a prank, and 'rang' back as requested. The operator said, "Gaaaary, Sir George is at home awaiting your call. Would you please ring him there?"
"Yes, I will do that!"
Oh my God, this is beginning to sound like a real call. My pulse quickened, but now encouraged, I dial again. On the line is yet another sweet British accent, but this time it is Sir George's wife's voice, who responds to me with "Gaaary, George is so pleased you called. Please hold and I'll get him."
He answered with a gentle, "Hellooo, Gaary, so glad you called." I quickly said, "George Martin, before I even learn why you called, and I know you probably are sick of hearing this, but it is because of you that I am in the music business. There is no individual in our business that I would rather meet than you."
"Thank you, Gary, and no, hearing this is not something I have ever tired of." He went on to report that a producer at DreamWorks in California had referred him to me when he'd inquired as to whom to call in Texas about an upcoming recording session with Goldie Hawn. He explained that he was producing his "swan song" album and Goldie was in Houston shooting a movie, so he needed to come to Texas and find a studio and a jazz trio of our best session players.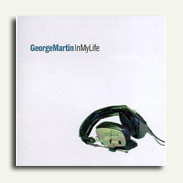 My job was to be the session "fixer," which is British for what Americans call "contractor."
Within a few weeks, we were all gathered with a film crew to record Goldie singing "It's a Hard Day's Night" with a jazz trio of Austin players at Ray Benson's Bismeaux Studios. That Austin recording session became part of the album entitled "George Martin – In My Life"
which we already know ten years later was not Sir George's swan song.
As I thanked Phil Ramone, I also thank you, George Martin, for your contribution in raising the bar of our popular musical lexicon and for your important influence on my personal musical journey.
My thanks to the Austin recording session musicians who played this memorable "Hard Day's Night" session for Sir George Martin:

Piano: Jeff Hellmer
Upright Bass: John Fremgen
Drums: A.D. Manion
Recording Engineer: Larry Seyer