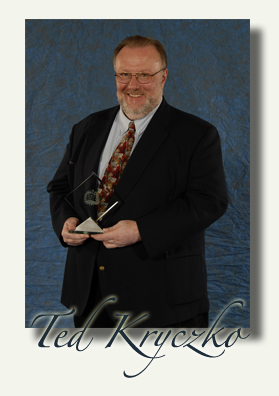 by Gary Powell
Just thirty years after earning his MFA, the University of California at Irvine (UCI) awarded Walt Disney Records' Vice-President of Artist & Repertoire (A&R), Ted Kryczko, with a Distinguished Alumnus Award on May 8th, 2008.
The Claire Trevor School of the Arts at UCI has adopted the motto, "Create. Explore. Innovate." Certainly, no one has ever reached Ted's achievement level in the music business without understanding the full intentionality of these three verbs. Now, continuing his relationship with his alma mater, Ted is currently serving on the Dean's Leadership Council at Claire Trevor School of the Arts. Ted Kryczko brings a big presence to my studio in Austin and now the students of drama and music at UCI will also benefit from his years of experience.
Here, you can view a beautiful UCI Adobe pdf in your browser with news and photos Ted Kryczko and Gary Powell holding a vocal audition at the Claire Trevor School of the Arts.

You can also read Ted Kryczko's full biography and also learn more about our UCI Disney audition here at www.garypowell.com.