by Gary Powell
It was March 6, 2008 when this story wrote itself. At this time of Phil Ramone's passing, it seems appropriate to remember his influence on me and the music I compose and produce.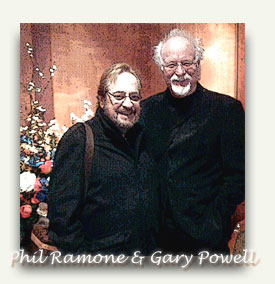 Glenn Richter, a longtime ally of mine and professor of music at the University of Texas, called this morning and invited me to have lunch with Phil Ramone. There are two producers in this world that would make me get dressed this fast. One is Sir George Martin, whom I have already met and briefly worked with. Phil Ramone is the other. Also present at the lunch were Executive Director of the NARAS – Texas Chapter, Theresa Jenkins and Project Director Jennifer Vocelka along with Ed Evans, Director of Technical Operations for Villa Muse and UT Recording Technology professor Mark Sarisky.
As a producer and composer, I am conscious about who my musical and production influences have been. I have many of these producers' albums hanging on my "wall of influences" in the cutting room of my studio. Igor Stravinsky is hanging there right beside George Gershwin, Aaron Copeland and Leonard Bernstein. But wait, also present are Simon and Garfunkel, Peter, Paul and Mary, Chicago and James Taylor. It is seldom the artist themselves that attracted my attention.
So, what was it about these particular artists that make me listen more closely and why are they on my wall of influences? It was Phil Ramone!
Following lunch, Mark Sarisky facilitated an interview with Mr. Ramone in the UT Music School's Recital Studio for students, faculty and NARAS members. My sense was that these college students had little appreciation or knowledge of Phil Ramone's contribution to the American musical lexicon. Culturally, we tend to buy into the myths sold to us about the capabilities of our recording artists. This was a brief moment for us all to look around the curtain and now would be a good time for us all to contemplate Phil Ramone's Discography!
Thank you, Phil, for mentoring my ears ever since introducing Lesley Gore in 1963 and for now writing your book, Making Records – The Scenes Behind the Music.
My best wishes for your continued success and for making our popular music more nuanced, more powerful, more meaningful and simply better than it would have been without you.