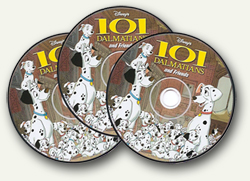 Jesmax Music, BMI has added "The Perfect Doggie Day" with words and music composed by Gary Powell to its catalog of songs. Gary Powell also served as producer/arranger of the song which is on the album entitled "Disney's 101 Dalmatians and Friends" releasing March 4th, 2008 on Walt Disney Records. The song was recorded in Austin, Texas at Powell Studio Productions and the album was compiled by Walt Disney Records VP, Ted Kryczko. Congratulations to Steve Sterling on his very cleverly designed album and CD artwork.
"Hamburgers burnt, hambugers soggy.
It's all good when you're the doggie."

– Lyric from "The Perfect Doggie Day"
The song is performed by Austin singer, Trent Durham, a long time contributor for Powell Studio Productions. Trent made a previous appearance for the Walt Disney Records' album, "Disney's Song Factory – Dinosaur (Songs Inspired by Aladar's Adventure)" on the song "Paradise" released in 1999. Trent continues to write and perform in Austin, Texas. The guitar parts were all played by Austin recording session guitarist extraordinaire Larry Seyer of Larry Seyer Digital. The male background vocals were performed by Zach Reiner-Harris, Ian Stuart, Ryan Farnsworth and Jeffrey Benson Parker, who were all students from the Claire Trevor School of the Arts at the University of California at Irvine. We found these young singers during auditions for the Recording Experience hosted by Ted Kryczko and held at Jeff Sheridan's studio, Soundworks, in North Hollywood, California.
(Please note neither Gary Powell or Jesmax Music, BMI sells any Disney products on this site.
For further information please visit DisneyMusic.com or contact Gary Powell.
The Perfect Doggie Day
Music and Lyrics by Gary Powell
Verse 1
Chew toys, shoe toys, squeeky little blue toys
Any kind of new toy makes the perfect doggie day
I'll chew a chair leg, a couch leg or any kind of peg leg
An uncle or an aunt leg makes the perfect doggie day
Chorus 1
So shut all the closet doors
And hang up your favorite belts and trousers
Pick up your shoes pick up your socks
Or I'll chew up the toy in your cereal box
And shut all the garbage lids
And don't leave the kitchen left unattended
Hamburgers burnt, hamburgers soggy
It's all good when you're the doggie
Verse 2
A bright day, a gray day or maybe just a Tuesday
They're all the perfect way to make the perfect doggie day
I'll take a walk, a fetch, a flying disk, a catch
A bike or a hike makes the perfect doggie day
(Lead Guitar)
(Full Chorus)
Verse 3
I'll savor a flavor, a beefy little favor
A trisket, a tasket, I'll even eat the basket
I'll eat your phony, baloney, or even macaroni
A toy telephony, makes the perfect doggie day
The perfect doggie day!!
Copyright 2008 Jesmax Music, BMI
(All Rights Reserved)