by Gary Powell
Emma Kate Tsai, an often contributor to my site, has posed this excellent question regarding the perceived color of tonal centers:

I have to write a research paper on music and how it collaborates with another art. I'm reading this new novel about a guy who can hear the tonality of people. I talked to my prof about it and she said that a lot of composers think people have "tonality", in other words, certain keys are uplifting, others are somber. What do you think? – Emma Kate Tsai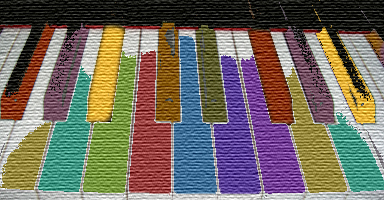 Yes Emma, composers have always talked about the idea that the key of
E Minor
does not "feel" the same as
Eb Minor
even though they are only a half-step apart. There is often agreement that tonal centers on black keys have a darker tone than tonal centers on white keys. It's possible that this perceived
audio
difference is more
visual
, and even tactile as well, in that the pianists' fingering shifts deeper into the keyboard when playing black keys. As an antidote to this, I encourage myself to compose in all keys to eliminate compositional patterns that one develops when playing only in
Bb Major
, for instance. If a songwriter or composer does notice that she prefers certain tonal centers or
keys
, like I mentioned, it may be more about muscle memory, which comes from familiarity with chord voicing in certain
keys
, than about any measurable or even perceived auditory color differences. I do hold, however unreliable the science is, that we can and do perceive a difference in the tonal nature of the keys we choose to play in.
Studies show that people with perfect pitch hear the character of a pitch instead of what we generally assume; that they are simply hearing the frequency. This is one argument to support the idea different keys do indeed express a unique tonal color or quality. Much of my knowledge on the related topic of perfect pitch comes from my old friend Rae Moses, another frequent contributor to my site. Rae is the Director of Choral Music for Carl Fischer Music and a concert pianist who has perfect pitch. I hope Rae will add his take on this topic with a comment below.
"The fingers tend to be a little bit predictable unless led by the brain." Brian May, Guitarist for Queen – As an aside, in 2007, Brian May received his PhD in Astrophysics.
I truly suspect that these tonal preferences are born from a mix of an unmeasured sense or feeling, a simple habit, or the shape of an individual's hand, or a player's eye sight, or that the piano stool was too low when we were young, making the flat keys harder to reach. We are indeed complex beings.
Helpful? Copy, Paste, then Tweet it!
How does the "Color of Key" effect what we hear and why do we prefer to play in one key over another? http://tinyurl.com/89dtz3
All Content of Gary Powell's Site is Licensed Under a
Creative Commons Attribution-NonCommercial-NoDerivs 2.5 License


.