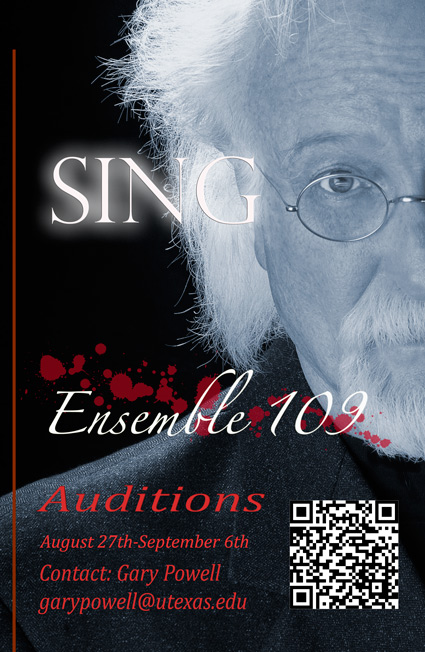 Ensemble 109, named after its course number, first came into the academic catalog at the University of Texas Butler School of Music in the Spring semester, 1985. Directed by recording producer Gary Powell, who wrote all the musical arrangements, the group averaged eighteen shows per semester performing for UT System events and gala events in central Texas. This very popular ensemble's auditions were open to any registered University of Texas student, regardless of major. Many students sang with Ensemble 109 their entire college career. Most former members are still singing and several went on to enjoy successful careers in music. The group disbanded when Powell left UT to pursue his professional career full-time in 1992. He has continued to train singers and performers who are currently working professionally across the country including Broadway, Disney World, cruise ships, Hollywood and points in-between.
Now that Gary Powell has returned to the music faculty at the Butler School of Music, Ensemble 109 is back in the Fall of 2013. The tradition now continues for this elite performing and recording vocal group. The focus this time will be direct and specific preparation for the real world of singing in recording studios. Individual and ensemble vocal techniques are taught which bridge the gap between the discipline of classical singing and popular vocal stylizations. Most popular genres of the vocal arts are perfected and performed, all within the framework of the professional recording studio vocal ensemble. The ability to read music was never a requirement – and so it goes for this new incantation.
THE PHILOSOPHY
Ensemble 109 directly supports he College of Fine Arts curricula in the recording, theatrical, and commercial arts. This vocal ensemble is designed for students of all majors who exhibit both aptitude and interest across the vocal and songwriting arts, inclusive of all genres.
WHAT TO EXPECT
Rehearsals: Monday/Friday-4p-5:30p Butler School of Music
Wednesday 4pm-7pm (Powell Studio Productions)
Anyone accepted through audition will have already proven their talent, interest and work ethic. This vocal experience is designed for the extraordinary person; a person open to the development of their unique "voice" while being in the company of other singers equal in talent and perseverance. In rehearsal, you will have individual style-specific ear-training and vocal exercises while still within the context of rehearsing original solo songs and a cappella ensemble arrangements.
AUDITION PREPARATION
Bring two songs of different styles.
You are welcome to sing any songs you have written.
You are also welcome to accompany yourself on guitar or piano.
Gary Powell will also accompany you on piano, if needed.
Your ability to read music will not be assessed.
You may be asked to sing passages from songs you do not know.
If you have accompaniment tracks, you are welcome to bring them on your laptop, phone or iPod.
Good luck to all.