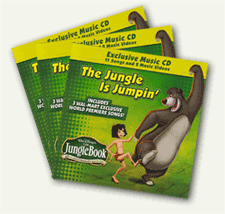 Jesmax Music, BMI, owned by Austin composer Gary Powell, is pleased to have placed the song Go, Go Bananas by Texas songwriters, Chris Martin and Gary Powell on the Walt Disney Records album The Jungle is Jumpin'. The album will be released October 2, 2007 as a Wal-Mart exclusive product celebrating The Jungle Book's 40th Anniversary Edition.
Originally written in 1997 for a George of the Jungle project which was never realized, Powell easily adapted the "Go, Go Bananas" lyric for the new and obviously more jammin' and jumpin' jungle.
The song was produced in Austin, Texas by Gary Powell and all the vocals were sung by longtime Walt Disney World performer David Wise who luckily for us is now residing and singing in Austin.
The Jungle is Jumpin' will also include three other Chris Martin and Gary Powell songs, "He's a Lucky Snake", "Queen of the Jungle", and "Dino Beat" all published by Wonderland Music Company, Inc. (BMI).
Album Executive Producer: Ted Kryczko
Mastering Engineer: Jeff Sheridan, Soundworks, NoHo, California
Song Producer: Gary Powell for The Bare Necessities, I Wan'na Be Like You, He's a Lucky, Lucky Snake, Queen of the Jungle, Never Smile at a Crocodile, Baloo, Go Go Bananas and Dino Beat
(Please note that I sell no Disney products on my site.
This CD will be available exclusively at Wal-Mart stores across the country.)