Pirates come and go. Most are vicious, marauding theives, yet occasionally one pirate might have a kinder spirit. As a group, they are "deplorable and horrible" as stated in Gary Powell's new song "Pirates of the Black Tide".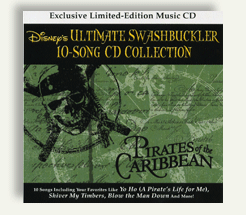 Powell's music publishing company, Jesmax Music, BMI, is proud to have placed this song on Walt Disney Records' new CD release entitled Disney's Ultimate Swashbuckler 10-Song CD Collection, a new product inspired by the movie series Pirates of the Caribbean.
Six of the ten pirate song vocals were produced in Gary Powell's Austin recording studio. Arranger Jerry Cleveland wrote the orchestral arrangements for many of the new songs except "Pirates of the Black Tide", which was wholly produced and recorded in Austin.
"The Pirates of the Black Tide" are played by Austin session singers Craig Toungate, Larry Seyer, David Wise, David Breeding and PBS TV Stars of "The Biscuit Brothers", Jerome Schoolar and Allen Robertson.
The string orchestra parts were performed by this wonderful group of players whom I hold in the highest regard: Bruce Williams, Lana Harris, Richard Kilmer, Elise Winters, Jamie Desautels, Elizabeth Blackerby, and Elizabeth Girko.
All songs on the album are listed below. Underlined song titles were recorded exclusively with Austin pirates. Please note that I sell no Disney products on my site. This CD can be purchased exclusively at Walmart stores across the country.
1. "A Pirate's Life"
2. "The Legend of Davy Jones: Forty Fathoms Below"
3. "Shiver My Timbers"
4. "Yo Ho Ho! (And a Bottle of Rum)" Solo by Craig Toungate
5. "Sailing for Adventure"
6. "Blow the Man Down" Solo by Allen Robertson
7. "The Pirate King" Solo by David Wise
8. "Pirates of the Black Tide" Solos by Craig Toungate,
Jerome Schoolar, Allen Robertson
9. "A Whale of a Tail"
10. "Yo Ho (A Pirate's Life for Me)
Album Produced by Ted Kryczko and Jeff Sheridan

(Fortunately for you and as you might understand,
all pirates refused to be photographed)
Pirates of the Black Tide
Words and Music by Gary Powell
Verse 1
We welcome the night as black as our heart
Can't see, don't want, never had a naval chart
The thief's rule of law
Is an appropriation bill
We're the pirates of the Black Tide
Sailors if you will
Verse 2
It's no birthday cake if you want our employ
And to be like us is a mistake you will enjoy
When pirates rule the seas
The world's a better place
We're the pirates of the Black Tide
We're a wonderful disgrace
Chorus
We're the mythical, pinnacle statement of
Your worst-est dream or vocabulary word
We're tyrannical, mechanical and people say
That we smell like death, you can't take that away
Verse 3
Yes, we're your worst fear and we know where you hide
We've hidden there before, we don't care how hard you've cried
We're the bottom of the barrel
When it comes to raising kids
We're pirates from the North Pole
We know just what you did
Verse 4
We have nightmares too, but we just call them dreams
We've taken this yachting thing out to the extreme
We're Type-A personalities, our therapy's a sword
We're the pirates of the Black Tide
We will not be ignored
Bridge
We're the black-hearted, swashbuckled, never take a shower,
Kind of guys obsessed a bit with fame and power
We're deplorable, horrible, scull and cross-bone ridden
Living on the ship where nothing is forbidden
Verse 5
Yes, we're your worst fear and we know where you sleep
So tucky, tuck in I wouldn't sleep too deep
We're the worst father figure
Figure out how not to scream
We're the pirates of the Black Tide
Hope you have sweet dreams
Tag
We're the Pirates of the Black Tide
Hope you have sweet dreams
(Copyright Jesmax Music, BMI 2006)