by Gary Powell
The Headliners Club of Austin celebrated its 50th Anniversary at an Austin gala event January 12th, 2006. I was proud to be a part of such an enormously successful Austin organization.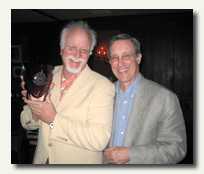 The photo at right is club chairman Tom Granger presenting me with a beautiful and unique piece of Waterford Crystal commemorating the club's 50 year history.
                                       
___________________________________________________
This music video is a part of a twelve minute historical video production which was played live at the 50th Anniversary Gala on two twelve foot screens. The song's lyric was inspired by the club motto, "It's Not Who You Are, but What You Are". I took a little liberty with the exact wording to accommodate the rhythm of the language musically.
Some 700 still images used in the video were scanned from many photo albums and newsletters of club history. The video elements were shot during the gala event itself on January 12th, 2006. You will certainly recognize many of our state and national leaders from politics, business, education, science and the media who have been a part of this Austin press club since its inception in 1956.
My special thanks to Larry Seyer as usual for his talent and loyalty and also to Leslie Whiteley, a music teacher in Killeen, Texas, who is relatively new to my bank of session singers. Thank you, Leslie, for delivering the perfect vocal performance for this lyric.
MUSIC & LYRIC BY: Gary Powell
SONG PRODUCED BY: Gary Powell
SUNG BY: Leslie Whiteley
PIANO: Gary Powell
GUITARS: Larry Seyer
VIDEO PRODUCED BY: Gary Powell & Larry Seyer
It's Not Who, but What You Are
Words and Music by Gary Powell
For the good pure and simple
For the good that you are
For the good of your friendship
For it carries us far
It is you who we look to
When we need a plan
It is you there beside us
As you reach out your hand
But it's not who you are
No, it's not who you are
No, it's not who, but what you are
While we look to your spirit
And stand by your love
You are there right beside us
In what we're dreaming of
You're not once in a while
You're not once upon a time
You're not once in blue moon
No, you're no nursery rhyme
And it's not who you are
No, it's not who you are
No, it's not who, but what you are
(Copyright Jesmax Music, BMI 2006)