by Gary Powell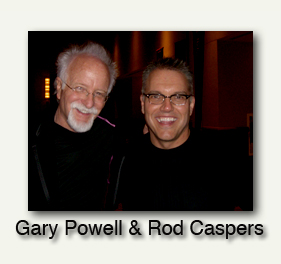 In Governor Dolph Briscoe's book, Dolph Briscoe: My Life in Texas Ranching and Politics,
he tells the story of standing on his land and telling his young children that they were looking across the far edge of Texas. Two weeks before Governor Briscoe's pubic presentation on February 11, 2009 as the recipient of the University of Texas System's most prestigious Santa Rita Award, UT Director of Creative Services Rod Caspers called me to engage my services in helping to commemorate the life of Dolph Briscoe.
Rod Caspers and I first worked together in 1990 on a special performance event for the University of Texas' Littlefield Society. Performing at that event were composers and former UT students Harvey Schmidt and Tom Jones, who wrote among other Broadway shows, The Fantasticks. At the time I was directing the University of Texas Music Department's vocal performing group, Ensemble 109 who was asked to perform with Schmidt and Jones at the event. Rod Caspers directed the event and we have been friends and colleagues ever since.
In preparation for Governor Briscoe's tribute, Rod was able to communicate to me all the most important historical and personal elements of the Governor's life that would translate well into poetry. As a lifelong Texan myself, I understood the breadth of Governor Briscoe's influence on our state. As Governor, Dolph Briscoe even appointed my father, Max Powell, to serve Texas as a member of the Interstate Oil and Gas Compact Commission. I'm proud to have briefly been involved in honoring this Texan and to do it in a manner which holds the best of himself as a father, person and public figure.
Thank you to longtime Austin composer, producer and player Danny Levin for accompanying me on the cello.
Listen to (2009) The Far Edge of Texas (feat. Gary Powell) from "Song of the Trail" byGary Powell, composer/producer on hearthis.at
The Far Edge of Texas
Music and Lyrics by Gary Powell
Copyright 2009 Jesmax Music, BMI
Verse 1
Look a'way over yonder and see hope's debut
At morning's first sun-up you'll see quite the view
Of the far edge of Texas where boundaries abate
Where the heart and the land become one with our fate
Verse 2
When the dry wit of summer falls daft on the plain
And the dull roar of hopelessness, winter's refrain
There's a heart deep in Texas that's more than a song
And it holds us together and it binds us forever
It sings to whomever holds hope all year long
Bridge 1
So when cold winds blow over and the clouds disappear
And the drought spirit whispers too near to our ears
When the inclement dream steals away restful night
And the harshness of life suffers fields into blight
Verse 3
Comes a bold self-reliance from working the land
And a deep held precaution of others who brand
With a herd not their own much less care understood
Here we learn from the land and the land does us good
Verse 4
We're an endless horizon from one star alone
We're a legacy built from the truth to the bone
We're an honest expression of what we know true
That the big eyes of Texas are upon you
Bridge 2 – (First Two Lines Instrumental)
So when cold winds blow over and the clouds disappear
And the drought spirit whispers too near to our ears
When the inclement dream steals away restful night
And the harness of loss suffers us too to blight
Verse 5
Oh Texas, oh Texas you've given your best
In the men and the women who've all passed your test
With their broad stroke of pen and a spirit this wide
You have held us together. You have bound us forever.
You've sung to whomever holds big Texas pride.
Copyright 2009 Jesmax Music, BMI
(All Rights Reserved)