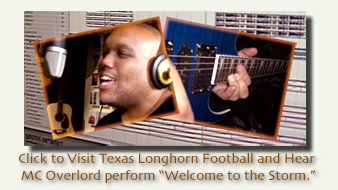 The amazing University of Texas Football website has a new song written and produced by Austin composer, Gary Powell, and performed by Austin hip-hop artist MC Overlord. Cloud storms gather on the ceiling of the UT football team locker room. Again they gather in the tunnel before the team enters the Darrell Royal Memorial Stadium with 94,114 pairs of eyes focused on victory. Totally, this moment needs a song of strength, unity and unbridled masculinity. This is the energy I was charged to create in the song and production entitled, "Welcome to the Storm," now underscoring the new University of Texas Football website.
Rayan Rutledge officially reviewed the site with the coaches and team yesterday and they love it…especially the song. I am sitting here listening to it over and over and over and I cannot get tired of it. The beat is awesome and it has the perfect amount of everything in it. My favorite section is the under [the heading] The Experience. (Click on the UT Austin skyline image button all the way to the right.) I think the 'Love me some Austin – get some ATX' is brilliant. I love the way it rolls. – Matthew Petchel, Brand Target Creative Consulting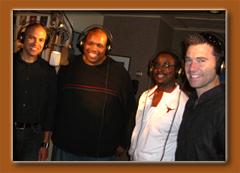 Creative services for this impressive flash website was managed by Rayan Rutledge who brought his important overview into the creative process as well. Rayan founded ACS Athletics in 1999, which is currently benefiting more than 70 intercollegiate athletic departments across the country by centralizing document and information management.
Austin's hip-hop artist, MC Overlord, who performed the song, is a graduate of the University of Texas, holding a degree in Marketing and is a frequent performer in Gary Powell's Austin recording studio. All guitars were played by Austin musician and producer, Larry Seyer. "Welcome to the Storm" is published by Jesmax Music, BMI, with words and music by owner Gary Powell.
(Pictured above working in Gary Powell's studio are Rayan Rutledge,
MC Overlord, UT Coach George Wynn, and Matthew Petchel. Thank you, gentlemen, for a really cool session.)
All Content of Gary Powell's Site is Licensed Under a
Creative Commons Attribution-NonCommercial-NoDerivs 2.5 License


.