Table Topic: How to Create Great Art and Save the World at the Same Time
Congratulations to SHSU for raising $57,000 with your annual event,
Let's Talk
. Presenting as a "Conversation Leader," I was pleased to be involved with this worthy program. Having my former professor and friend, Walter Foster and Jeri Lyn Foster, who were most influential in my educational upbringing, was a great surprise. Renewing my relationship with the university through
Mike Bankhead
, has also been a pleasure and an honor. Thank you
Rhonda Ellisor
, and
Nancy Gaertner
for a beautifully run event! Written below is a quick follow-up of the discussion held at our table.
Okay, so maybe I didn't quite get to the "saving the world" part of my table topic. Saving the world is actually an ongoing negotiation I am having with record companies, distributors, social-media sites, networks of friends, lawyers, publishers, allies, supporters and with myself as well – all the while trying to compose and record some worthwhile music, identify talented deserving performers and musicians and earning a pot-load of money to fund it all.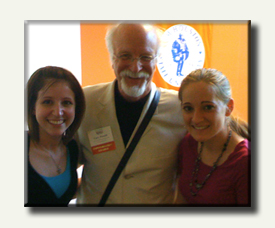 The opportunities open to recording artists have been profoundly transformed since I began my professional career in 1976. The idea that a musician could record an album in their living room with a laptop and two decent microphones and then acquire worldwide digital distribution for a few hundred dollars would have been thought to be crazy talk even ten years ago. Nonetheless, now we have that ability. For the first time, I myself have pushed three of my personal album productions to iTunes in the USA, Australia, New Zealand, Canada, Japan, United Kingdom, and the European Union. The albums are also available for download on Amazon MP3, Rhapsody, Napster, eMusic, and LaLa. Apple's iTunes store alone has now sold over six billion songs since it began on January 9, 2001. About 200 of those sales are credited to me personally (not counting my work for Disney), so you can see that there is another hurdle to jump through in learning how to find and direct customers to buy our music.
It's an exciting time to be a musician and artist, for not since 1776 have talent and integrity had such an opportunity as this. – Gary Powell
A producer's or professor's development of an aspiring musician who can compose and produce a marketable album has never been enough for success. Like politics, it has taken the power of movies, television, nepotism, secret deals and every other sordid ideal to make it to the top of the charts. It's just that now, we as musicians no longer have to wait for what we thought of as our big break. Now, utilizing many of the emerging distribution and marketing technologies, we can finally take control of our careers while implementing our production and marketing strategies incrementally. Refer back to the 200 units sold digitally by me online. Before I posted those three albums for sale, there were another 127 albums composed and produced by me for different clients and record labels. Those albums have sold some 45 million albums in 47 countries. These kinds of numbers do not happen because the proverbial cream has risen to the top. There is much more to this music business than just writing and recording. Unfortunately, entrepreneurship is is not taught to most aspiring musicians, so until we rise to the challenge of learning how the business of music works, we will continue to miss the opportunities offered us through new marketing and distribution technologies.
Obviously, the major record labels are not thrilled about the democratization of the music business, but, they should be. These opportunities are renewing the public's interest in discovering and maybe buying music again. Regardless, here we are – millions of musicians, singers and composers for whom the record companies are becoming irrelevant. That is not entirely true just yet, but broadening our educational arts curricula to include basic entrepreneurship courses will give talented individuals tools and hope for building a sustainable business – a business they can solely own and from which they can prosper directly. It's true that we all can have a chance to swing the bat for a home run, as long as we can build and own our own stadium. Thus, this effort will require some very serious skills beyond learning counterpoint and spelling major-minor seventh chords.
It's an exciting time to be a musician and artist, for not since 1776 have talent and integrity had such an opportunity as this. I just made that up, so please don't make me defend this bold statement. But, hope really needs no defense, as long as it is accompanied by education and discipline.
For further information, please check out the links below.
Helpful? Then Copy, Paste and Tweet It:
"Let's Talk" Music and Entrepreneurship in the Arts with Gary Powell at Sam Houston State University. http://tinyurl.com/c4c8zf
All Content of Gary Powell's Site is Licensed Under a
Creative Commons Attribution-NonCommercial-NoDerivs 2.5 License


.