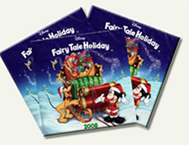 Santa Claus continues to be "Pulling Santa's Sleigh" with the Gary Powell song of the same name loaded onboard the album, "Fairy Tale Holiday" released on Walt Disney Records Christmas 2008. The album reached it's peak on the Billboard 200 at #34 on January 17, 2009.
Gary Powell wrote and produced the song which was sung by the longtime veteran of Powell Studio Productions, Craig Toungate, who delivered a very convincing reindeer-like performance. This is the second placement of "Pulling Santa's Sleigh" for Jesmax Music. The song was originally released on the Disney album, "Disney's Santa Sing-Along" in 2004.
Please note that I sell no Disney products on my site.
This CD was released in 2008 exclusively in Target stores across the country.
PULLING SANTA'S SLEIGH
Words and Music by Gary Powell
It's not easy being reindeer
It's something we don't hear
We think they play and romp and glow
Filling snowy skies with cheer
We think their little hoofs clip-clop
Upon our roofs with glee
We never know and never see
How reindeer life might really be
So, let's get real and look behind
We've got a back stage pass to find
To help our furry friends unwind
The task is clear and help is near
It's not easy being reindeer
First, I'm guessing they must workout
Summer, Winter, Spring and Fall
You know they have to be in shape
To deliver bowling balls
And bikes and trains
Do they complain?
These gifts must weigh a ton
It's not easy being Reindeer
We thought it would be fun
Yeah, right!
It's not easy being Reindeer
The fun I've had is none
It's always dead of winter
And the chimney smoke is thick
The snow-filled wind is blowing
And Cupid, well, she kicks
Comet glides across the sky
And flying is a breeze
But Dasher sneezes all the time
Donner's allergy is cheese
(CHORUS)
Now flying's not that hard
And landing's not that tough
But these endless take-offs from each roof
They get a little rough
Have you ever seen a runway
When airplanes start to zoom?
They're long and nice and yes, de-iced
These Reindeer's need more room!
Then, Rudolph, he gets all the press
His bright red lighted nose
But Rudolph doesn't rhyme
Just upper management that glows
Dancer works with Prancer
They both shoot way under par
And Vixen works with Blitzen
Give the whole team a gold star
Dash away, dash away, dash away all
They hear that "dash away" a lot
Not sure just what it means
But I'm guessing sprinting is involved
I hope they're in their teens
Reindeers pulled sleds long ago
Of that make no mistake
And even though it's just one night
It's not a piece of cake
If you're worried they can't find you
Cause your home town is so small
Their antlers, they have GPS
They could find you in a mall
Now we've got to look at Santa
Who is his own zip code
It wouldn't hurt to loose some weight
Would you want to pull that big, wide load?
(CHORUS)
Just when they've got a head of steam
The man in red says, "whoa"
A million times they've heard it now
How about more dough?
But here's the thing that's different
And it's hard to understand
The Reindeer, they don't act like us
They like to take command
The hard work, well, they like that too
Even though it has no end
Cause they know the gifts they really bring
And this is not pretend
They do their job and live their lives
With their North Pole family
They know they are important
And yes, they do it all with glee
And though they cannot see us
While pulling that big sleigh
They know that all our faces
Are lit-up on Christmas day
Though it's hard to be a Reindeer
And they never get their pay
Our four-legged friends are proud to be
Pulling Santa's Sleigh
Our four-legged friends are proud to be
Pulling Santa's Sleigh
RUDOLPH, DASHER , DANCER AND PRANCER
COMET, CUPID , DONNER
VIXEN AND BLITZEN
Pulling Santa's Sleigh
Copyright 2004 Jesmax Music, BMI
(All Rights Reserved)