The reviews below followed Gary Powell's original one-man show based on his 1982 book "Maybe I'm It – Maybe I'm Not" presented at Zachary Scott Theater in Austin, Texas as originally performed in 1997.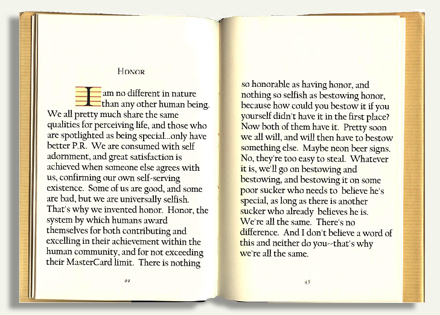 ——————-
"Inventiveness, range and uniqueness describe Gary Powell's extraordinary musical talent. In a chronicle of his experience, he removes the normal boundaries of theater by encouraging audience participation. Powell explores musical and human relationships with wry wit, original songs, and poignant personal moments in a "Randy Newman" styled concert guaranteed to delight."
— Zachary Scott Theater – Austin, Texas
——————-
"Never having had an experience of performing, I idealize it a lot. It looks therapeutic to me when you are doing you show."
— Bill Bruzy, Therapist, Author and Owner of the Austin Men's Center
——————-
"Your performance last evening will linger with me for a very long time. You said "it wasn't theater" ….WRONG. It was the highest, most hybrid form of theater – a man exposing his most vulnerable form through his art – And what magnificent art it was. Thanks for the gift – food for the road – and a memory to last forever.
— Bil Pfuderer, Artistic Director CANTON PLAYERS GUILD (Canton, Ohio)
——————-
"You really did a great job and had everyone in the palm of your hand…your depth of feeling – your willingness to show and and resolve to "do the work" is heartening. You've really jumped in and are doing it. GREAT SHOW!
— Susan Crofts, Artist/Boutique Owner
——————-
"Your performance Saturday night was amazing. I laughed a lot – I cried a lot, I marveled in your succinct performance of communicating so much of what you are, will be….
— Ruthie Shafer, Attorney
——————-
"…a very unusual show. Like no other you've ever seen. And the opening night of Mr. Powell weekend in Zachary Scott's Z-Cabaret Series…was a shot of Gary Powell's essence into the hearts and minds of his audience.
— Jerry Conn, Westlake Picayune
——————-
"I LIKE IT. I had no idea it was going to be so deep. The only thing I worry about is that it might be too smart for your average Joe. Don't forget how many morons there are out there."
— Robin Huston, Singer/Actress
——————-
"I think it has such great value – it's a different kind of show – a kind that puts a lot of forms together in a unique and innovative way. I found it refreshing and enjoyable in every sense.
— Dennis Razze, Drama Director/Professor, DeSales University (Allentown, PA)
——————-
"He's a singer, an instrumentalist, a poet, a composer and an all-around fun guy, loaded with a casual charm, talent and an inclination to relate and communicate.
So what kind of Z-Cabaret show would Gary Powell do? The answer: a very unusual show. Like no show you have ever seen. Probably like to show Gary Powell has ever done. And the opening night of Mr. Powell's weekend in Zachary Scott Theater's Z-Cabaret Series last Friday was a shot of Gary Powell's essence into the hearts and minds of his audience. Mamy present were friends, several of whom played moving parts in the show by reading sections of Mr. Powell's poetry to his accompaniment on piano or conga drums.
Mr. Powell was fun of fun and contradicitons in his humor and his work and, first of all, in his appearance. He said he's 46, look more youthful and fit — except for white hair which he flaunts by wearing it longish and floating. A denim shirt, tail out whether sport coat or not, signaled his casual style. But mostly it's his easygoing, ambling, sans souce approach to his show.
He sings his own songs, which range from serious, searching and even religious, to novelty songs and song expressing irritation with social convention with a few flavored sprinkles of the profane. And htere there's at least on (my favorite) that potentially and symbolically combined all these qualities — "That's When I Pee on the Continental Divide." That's from his occasional trips by motorcycle to the Colorado rockies to clear the static and cobwebs.
His songs do have some left-handed flavors of Randy Newman and also some of the quirky humor and poignancy of Roger Miller. His voice is flexible and his singing style has a contemporary style that takes slides and liberties associated with black blues singers. Indeed, on segment of this show dealt with a time when he ws a choir director for femal inmates at a state prison in Huntsville. He playe a tape of one black lady singing and said she really taught him how to sing.
Amazing and fascinating is that Mr. Powell put together this show in an autobiographical format — that, in less talented and accomplished and people-sensitive hands, would right with a resounding thud.
But he drew well from an extensive career in music. Presently, he is composing, arranging, designing and demonstrating musical projects for various clients, including the Walt Disney Corporation. He also alluded to adventures, musical and otherwise, working on a cruise ship, singing church gigs while in college, teaching at U.T., and writing a church musical from which he performed a number. A recurring theme, in both song lyrics and poetry, was the coming to his own terms with society's view of success, turning out, and making it. Another was the coming to terms with those he had loved, girlfriends, as well as his father.
In this presenting of his personal life, Mr. Powell's show was a sort of expansion of the Spaulding Gray monologue–but ad lib and with music, and with a little loveable help from his friends.
— A&E Review from the Westlake Picayune